Outdoor Adventure
Updated: August 18, 2020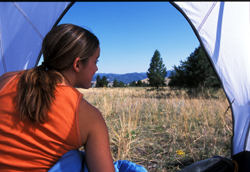 Crystal air, incredible vistas, and uncrowded landscapes set the stage for outdoor adventure. The potential for hiking, climbing, biking, skiing, or floating in Big Sky country is endless, and each adventure is an introduction to another exciting area to explore. The reward of your effort can be felt in the breeze of the wind, the scent of fresh pine, and the resounding call of the eagle.
Montana is one of the premiere fishing destinations in the world! Fishing is one of the most popular activities in Montana. What a way to spend the day! Besides trying to outsmart the fish, you get to see all kinds of ducks and geese, study unusual aquatic insects, chase butterflies, have a picnic lunch and tell an extra-ordinary fish story! The fresh mountain air, post-card scenery and wildlife make it a memorable experience.
From elk in the Bob Marshall Wilderness, to antelope on the short-grass prairie; from mule deer in the foothills, to moose in the bogs of our rugged mountains, Montana is a big-game hunter's paradise. When it comes to wildlife diversity and hunting opportunities, Montana has something to satisfy nearly everyone.
Updated: August 18, 2020