Skiing
Updated: August 18, 2020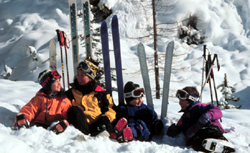 Montana is a great place for winter fun. Ski season arrives late in fall as cold, dry powder snow begins to pile up in the high country. In the mist, on top of mountains in the northwest, "Snow ghosts" start to appear and by winter it's perfect for skiing. Montana has over a dozen downhill ski areas and lots of mountains, forests and cross-country ski trails for you to explore.
At other resorts you can ride lifts to high mountain summits. From the top of the world, the view is awe-inspiring. Snow carved by the wind creates a fairy-tale scene against the big sky. When you've caught your breath, you can ski miles and miles back to the bottom of the mountain. Near Glacier Park you can take a train to the small town of Essex, where you can cross-country ski miles and miles of groomed and backcountry trails and then relax in a cozy mountain inn.
If you're a beginner, you can learn to ski in Montana. If you're an expert, you can take a guided expedition for an extreme skiing adventure. And after a hard day on the slopes, you can go for a ride with a dogsled team or a horse-drawn sleigh. If you're too tired to go out, you can relax in an outdoor heated pool.
Ready to ski Big Sky Country? Here are some helpful hints to help you plan your Montana ski trip. First, do a little research by picking up a couple of ski magazines to familiarize yourself with equipment and ski lingo. Then start your adventure with a visit to a ski shop. If you don't have a local shop, you'll find lots of help in Montana cities and resorts. There you can talk to an experienced skier about the sport and they can provide you with expert advice. They'll answer any questions you have about equipment and make sure all of your gear is sized and adjusted correctly. You'll be much happier and more confident on the snow if you are skiing with the proper skis and boots. They can also help you decide whether to rent or buy equipment. Many shops have special lease programs so your equipment can be returned at the end of the season.
Before you get to the mountain, here are a few things to bear in mind. Mountain conditions change rapidly so dress appropriately and please be prepared for any weather. Remember to bring the following:
Long underwear and turtleneck.
Warm coat and snow or "mountain" pants.
Warm hat and neck gaiter.
Goggles and/or sunglasses.
Sunscreen and lipbalm.
Warm, dry socks.
Waterproof, insulated mittens or gloves.
Helmets (recommended).
Skis, boots, and poles.
Once you're at the mountain, check out the ski school. The instructors will teach you how to get on the lift and then how to get down again without becoming a "miss-guided" missile. At the ski school, there will be information on lessons and they might even have a special deal for beginners. Finally, before hitting the slopes, you need to pay attention to the skier's responsibility code:
Always ski in control.
You are responsible for the people in front of you.
Never stop in the middle of the trail; stop on the side and out of the way.
Never jump out into traffic. Look both ways.
Slow down at junctions and crossroads.
Make sure your skis have breaking devices.
Obey all signs.
Never ski beyond your means.
Here are some great places to ski in Montana:
Be safe and have fun!
Updated: August 18, 2020