Fishing
Updated: August 18, 2020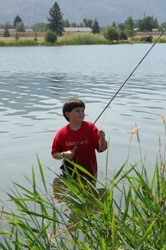 Montana is renowned not just for its "blue ribbon" fishing, but for the entire outdoor experience it yields. Clear rushing rivers, quiet lakes, secret "cricks", unrivaled landscapes, and abundant wildlife all add to the experience.
In Montana, fishing methods vary with the season, the type of water, and the angler's personal preference. Fly, spin, and bait fishing are all popular techniques. Wading is the most common technique along streams and rivers. Hip boots are handy on small streams, but chest waders are needed on the large rivers. Felt-soled wading shoes or boots improve traction on slippery stream bottoms. Float fishing is increasingly popular on the largest rivers, and motorboats are allowed on most lakes and on some larger rivers.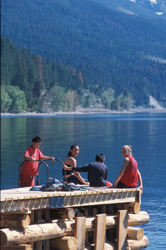 Montana is a headwaters state. Pristine waters born in snowmelt grow from unnamed trickles and streams to celebrated rivers like the Madison, Gallatin, Yellowstone, Big Hole and Bighorn. Some rivers are impounded to form great lakes like Canyon Ferry, Fort Peck, Georgetown, and Hebgen. Other lakes, like giant Flathead, are naturally formed.
Montana's fishing is more than a coincidence of climate, geography, and geology. Aggressive conservation efforts have resulted in landmark legislation that protects the habitat in which wild trout and other fish species thrive. State fishery and wildlife managers help with habitat protection, too, and the results are apparent in higher creel counts, magazine features, television documentaries and the growing number of fishing licenses sold each year.
But these biologists can't do it alone. As Montana's rivers, lakes, and streams become increasingly known and loved, each user has a role in making the "Montana experience" a good one for other recreationists and by preserving the resources that make Montana's fishing world class.
Learn the Montana way to catch a fish.
Updated: August 18, 2020