Hiking and Mountain Climbing
Updated: August 18, 2020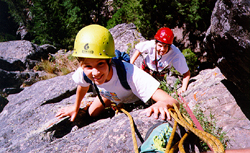 The Land of Shining Mountains
Montana is a word borrowed from the Latin expression meaning "mountainous." The rugged Continental Divide, or "backbone of the world," zigzags across western Montana from Canada to Wyoming. From the jagged peaks of Glacier Park to the ancient Beartooth plateau, the potential for hiking and climbing in Big Sky Country is endless. Each adventure is only an introduction to another area to explore. Distant snowcapped peaks, glaciers, high-altitude meadows, and alpine lakes will lure you back again and again.
Climbing has an ancient history in Montana. Indians used to climb mountains to scout buffalo herds and conduct vision quests. On a quest, young Indians would separate themselves from the rest of the tribe and climb alone to the summit, often taking great risks. There they would fast and meditate for up to four days. Eventually they would receive a vision that would guide their development for the rest of their life. They also sought to acquire a guardian spirit, often in the form of an animal, who would be close and supportive for the rest of their lives. Two sacred mountains to the Indians were Crazy Peak and Chief Mountain.
In recent times, several guides for rock climbing and hiking have been published, complete with route descriptions and maps, and guide services are available to lead your mountain adventure. Montana has ten national forests, including twelve wilderness areas, and over sixteen million acres of public lands to explore. The intrepid mountaineer can find day hikes, multi-day treks, wilderness adventures, and technical rock and ice climbing in Montana. Glacier Park alone has over 1,000 miles of trails. For the real adventurer, many remote areas remain uninvestigated and their climbing potential is unexplored.
Regardless of your age or ability you can have an exciting outdoor adventure in Montana, but the high country can also present some challenges. Those drawn to the mountains can find them exciting and fascinating, as well as frustrating and dangerous. To have a safe trip you need to plan ahead and take the right gear. Here are some tips to help you plan your backpacking, hiking, or climbing trip.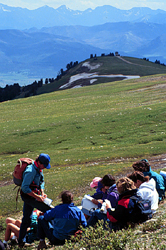 For starters tell somebody where you're going and when you plan to return. Just like pilots have to file "flight plans," leave your trip schedule with a responsible person.
Be prepared. Take a compass and a map. Stay on the trail unless you're a very experienced hiker.
Watch the weather, especially lightning. Often hikers and lightning are drawn to the same high places. Remember that conditions in the mountains change very rapidly. Check the long-range forecast before you leave.
Carry all of the necessary clothing, food and equipment at all times.
Don't drink water that has not been filtered, boiled, or purified.
Don't hike alone and keep your party together in the backcountry.
Don't slide down snowbanks with cliffs or boulders at the bottom.
Don't eat wild plants unless an expert has identified them.
Stay clear of all wild animals, especially bears.
Pace yourself. Hike at a pace you can maintain for the whole day. Don't take unnecessary chances such as crossing large streams or climbing cliffs without rock climbing protection.
"Touch the Land Lightly"
The beauty of wild places could be their undoing. We are drawn to nature for its adventure and remote splendor, but every trip into the backcountry leaves it just a little less wild. As the wilderness continues to shrink the number of hikers and climbers continue to increase, so we need to have a special set of rules for the backcountry. A visit to the wilderness is a privilege and we need to soften our impact on the fragile surroundings. Leave no trace. The next hiker should see no sign that you passed before them. Never litter or destroy wildlife or plants. Stay on trails and carry out what you carried in, including all of your garbage. Leave only good times behind and take only memories when you leave.
Updated: August 18, 2020