Hunting in Montana
Updated: August 18, 2020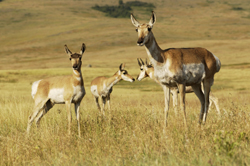 Montana is home to many types of game hunting. You can hunt elk in the Bob Marshall Wilderness, antelope on the short-grass prairies, upland birds in the foothills, and moose in the low bogs of our rugged mountains. Montana's hunting heritage is both essential to the state's economic well being and a basic tradition in many Montana families. Many Montana citizens have formed partnerships and worked to protect this tradition. The history of conservation in Montana is the story of an enduring commitment to wildlife preservation.
When it comes to wildlife diversity and hunting opportunities, Montana has something to satisfy nearly everyone. Those who appreciate being able to hunt an array of big game in their native habitats, and who appreciate the state's sweeping scenery will find Montana a hunters paradise. Montana's big game animals include mule deer, white-tailed deer, elk, antelope, big horn sheep, mountain goat, moose, black bear, and mountain lion.
Many hunting outfitters and guides are available to help you plan your Montana hunting adventure. Outfitters and guides are licensed by the Montana Department of Commerce. For more information, and a listing of licensed outfitters and guides, VisitMT.com's Outfitters and Guides page has more information.
Hunter Education
Hunters: residents and non-residents, born after Jan. 1, 1985 must present a copy of their hunter education certificate when applying for a hunting license.
Bowhunter Education
All hunters: residents and non-residents, must present a certificate of completing a National Bowhunter Education Foundation (NBEF)course in order to bowhunt in any of the Archery Only opportunities where a bow and arrow stamp is required. Hunters age 12 years or older must also show proof of completing an approved hunter education course. Learn more about hunter's education at the Fish Wildlife and Parks web site. For more information on hunter education requirements please contact FWP's Hunter Education Program office at (406) 444-4046.
Updated: August 18, 2020