Chief Plenty Coups State Park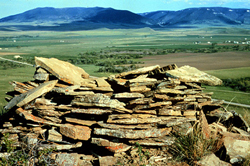 Situated within the Crow Reservation in south central Montana, this park was the home of Plenty Coups, last and perhaps the greatest chief of the Crow. Chief Aleck-chea-ahoosh when translated to English means "Many Achievements" or "Plenty Coups". Successfully he led the Crow into many battles with their traditional enemies, the Blackfeet, Cheyenne, and Sioux and emerged unharmed bearing his enemies scalps and their finest horses. As proof of his extraordinary courage, Plenty Coups had "counted coup" that is, struck his living enemy with his coup stick, at least eighty times. With diplomatic skill he secured for his people their traditional homeland in the Yellowstone River Valley. He purposed that his home be preserved as a historic site in "token of my friendship for all people", which he modeled after George Washington's Mount Vernon.
Plenty Coups had a vision that showed him that those who opposed the white man would lose their land. He foretold of the disappearance of the bison and believed that his people must learn the ways of the white man. He built his log house, opened a store, and planted an apple orchard.
His two-story log home and store remain as evidence of the chief's efforts to lead his people in adopting a new lifestyle. A museum houses the chief's personal items as well as interpretive displays telling the story of the Crow culture. Also at the Park is the chief's burial site, the Medicine Spring, and an excellent view of the Pryor Mountains. Plenty Coups and his wife deeded their home and land for a "Nation's Park" in 1928.
The park has vault toilets, grills/fire rings, picnic tables, trash cans, and drinking water.
How To Find It!
To locate Chief Plenty Coups State Park from Billings: Follow signs on I-90, Exit 452. Drive 35 miles south on Highway 416 to Pryor, then drive 1 mile west of Pryor on county (Edgar) road.
For more information and maps visit the Montana Fish, Wildlife and Parks listing for Chief Plenty Coups State Park.
Visit montanakids.com's Cool Stories section to read more about Chief Plenty Coups.