Welcome Creek Wilderness
Updated: August 20, 2020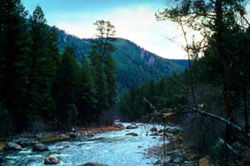 The 29,135-acres Welcome Creek area is a true wilderness experience. There are densely forested slopes, exposed ridges, and deep canyons in this heart-shaped Wilderness. The land rises gently from the main Sapphire Range Divide and then drops abruptly to form breaks that are steep and rough. Old stands of lodgepole pine and groves of spruce and Douglas fir provide homes for elk, deer, mountain lions, bobcats, pine martens, minks and weasels.
Welcome Creek has a colorful past. Gold was first discovered in Welcome Creek in 1888. During its short mining era Welcome Creek, one of the largest gold nuggets ever found in Montana was found. It was one and a half pounds! That sure tipped the scales. When the mines were abandoned, the steep mountains of Welcome Creek became a hideout for fugitives. The crumbling remains of at least a dozen old cabins can be found, often in places where you least expect them.
Welcome Creek was designated Wilderness in 1978 as part of the Endangered American Wilderness Act largely through the efforts of late Senator Lee Metcalf and of Montana conservationists who recognized the relationship between protecting the headwaters of Rock Creek and maintaining its superb water quality and fishery.
Elevations range from 4,100 feet in the Rock Creek Basin to 7,723 feet on Welcome Peak. There are about thirty miles of trails, most of which lie on steep ridges and in the narrow stream bottoms. For a summer day hike try the most popular route is across the Welcome Creek swinging bridge over Rock Creek. Cross-country skiing can be excellent in the high basins near or just below the Sapphire Divide.
Updated: August 20, 2020