Rattlesnake Wilderness
Updated: August 20, 2020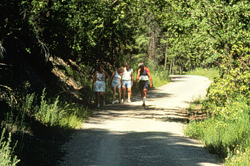 With the major trailhead only 4.5 miles north of Missoula, the 61,000 acres of glaciated land in the Rattlesnake Wilderness and National Recreation Area form Montana's premier urban wilderness, blending the best of both wilderness and civilization.
The U-shaped Rattlesnake basin is fed by more than fifty small creeks that begin as seeps from springs and melting snowbanks in the upper Wilderness portion. Resting in the more than thirty high mountain lakes, crystal clear water then plunges down waterfalls to hanging valleys.
The Rattlesnake Wilderness is home to the remote, 8,620-foot McLeod Peak. The gentler western slopes lead down to the open bowl-like basin of upper Grant Creek. Although uncommon, occasional grizzly bears roam here, and every so often the haunting howl of a lone wold deepens the feeling of wildness.
Mountain biking, jogging, fishing, cross-country skiing are popular in the Rattlesnake Wilderness and National Recreation Area. There is a well established trail system in the Rattlesnake lower half affording opportunities for day trips or you may choose to travel further into the wilderness for overnight camping.
Updated: August 20, 2020