Bear Trap Canyon Wilderness
Updated: August 18, 2020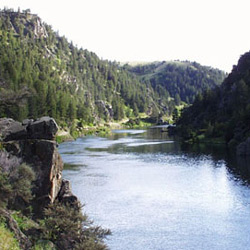 Bear Trap Canyon is 6,000 acres in the Lee Metcalf Wilderness of Montana and is the first BLM wilderness in the country. It offers a variety of whitewater, angling and hiking possibilities. Expect it to be greatly used on weekends and please do everything you can to keep it clean, including picking up after others.
For hiking, the trailhead is 3 miles up a gravel road. The trail is 9 miles up the canyon. The first third is easy going, then the route becomes a bit more strenuous as it rises above the river. Be sure to watch for the abundant wildlife that makes this its home. This is low country compared to the surrounding area. If you are used to a cool wind in the Montana mountains, you may find yourself sweltering in Bear Trap during the heart of the summer.
Most river floaters prefer 4 to 5 hours run during warmer weather. The ideal water flow for running the river is 1,500 to 2,200 cubic feet per second. It varies greatly, from 900 to 10,000 cfs, depending on the season, dam releases, and weather.
Remember, the canyon contains several dangerous rapids which have destroyed boats and killed floaters in past years. Accidents have generally resulted from: (1) inexperience; (2) lack of preparation; (3) inadequate equipment; (4) bad judgment, and (5) alcohol use. Don't become a statistic by underestimating the hazards of the canyon. Remember, rescue is difficult.
The Madison River is famous for its trout and the stretch through Bear Trap is prime territory. Expect campsites to be heavily used. Remember, Montana fishing licenses are required. Check locally for current fishing regulations set by the state.
Please cooperate by complying with the following regulations:
The upper canyon is a day use area only. No camping is allowed.
Fires are permitted in contained charcoal grills, but open fires are not permitted. Floaters, if you intend to have a fire, a fire pan is required.
No shooting of firearms or animal trapping.
Park vehicles only in designated areas. There is no public parking permitted downstream from Fall Creek.
Floaters are prohibited from camping within the wilderness in order to maximize solitude for others. Floaters may camp north of the wilderness at the Red Mountain campground.
Backpackers may camp overnight, but are limited to 3 consecutive days in the wilderness.
Pack and saddle stock are limited to the period between October 15 and December 15.
Updated: August 18, 2020