Flathead Lake State Park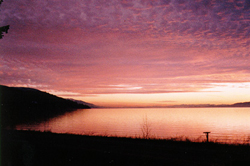 There are a variety of fun things to do at Flathead Lake State Park, which is located in northwest Montana between Polson and Kalispell. The park is made up of six separate units around the lake, including Wild Horse Island, Big Arm, Finley Point, Wayfarers, West Shore, and Yellow Bay. Each unit offers unique forms of recreation, wildlife viewing, and adventure. With the beautiful Mission Mountain Range to the east and Glacier National Park about 40 miles to the north, Flathead Lake offers one of the most scenic vacation spots in the West.
Located in the heart of the 100-mile-long Flathead Valley, the lake offers activities for the entire family. Camping, fishing, swimming, boating, and water sports are favorite summer activities; ice fishing and ice-skating are popular in the winter. Some other activities in the Flathead Lake area include concerts, festivals, skiing, snowmobiling, and horseback riding. Outfitters and resorts offer fishing guides, hiking and mountain bike adventures, and other exciting activities. If you like white-water rafting, there are several guides and rentals available. The local rivers are excellent for white water, some having class 2 and class 3 rapids.
The history of Flathead Lake began about 12,000 years ago. The glaciers of the last Ice Age carved the lakebed into the face of the earth. The deepest part of the lake, Yellow Bay, can reach a depth of 370 feet. Flathead Lake, sometimes called 'The Jewel of the Northwest', has 200 square miles of surface area. The shore is 185 miles long. It is the largest body of fresh water between the Mississippi River and the Pacific Ocean, stretching 28 miles long and 16 miles at its widest point.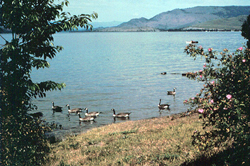 Human activity at Flathead Lake dates back at least 5,000 years. The Salish, Kootenai, and the Pend d' Orielle tribes came from the Pacific Northwest to live near Flathead Lake long ago. The Salish made their living by hunting deer and other animals, and by gathering bitteroot, camas root and berries. During the 1700's, the Shoshone, a Plains Tribe, introduced the Kootenai to horses. Once the tribe had horses, they hunted buffalo. Lewis and Clark met the tribe in 1805. Salish that lived east of the divide were called "Flatheads" by European settlers. You can learn more about these tribes by visiting The Peoples Center, about 8 miles south of Polson.
You have probably heard of the Loch Ness Monster, but did you know that people have reported sightings of a Flathead Monster for over one hundred years? Well, they have, and in 1955, one was caught. It turned out to be a 181-pound white sturgeon. The monster has been preserved and can now be found in the Polson- Flathead Historical Museum. Polson is located, on a bay at the south of Flathead Lake. The town has rich in history, which can be explored, at the museum. Polson also has several golf courses and parks.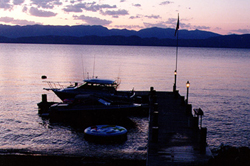 The area around Flathead Lake is as vast and beautiful as the lake itself. The drive along the east shore is a visual delight. The Salish Mountain Range, Flathead Mountain Range and the Mission Mountain Range guard the lake on three sides. East of the Mission Mountains is the magnificent Bob Marshal Wilderness. (Wilderness areas are unique, and there are special rules that apply to them. For example, motorized vehicles are not allowed in wilderness areas.) There are wonderful hiking trails and plenty of places to go rock climbing.
The source of Flathead Lake is the Flathead River. In the spring, bull trout and cutthroats travel up river to lay their eggs in small tributary streams that feed the Middle and North Forks. Whitefish begin their spawning runs in the autumn. Some say that fishing is actually better in the river than in the lake.
Some species found in the forests around Flathead Lake are endangered. This means that if conditions remain the same, the animal may no longer exist. Some endangered and protected species that you might see in the Flathead areas are gray wolves, grizzly bears, bald eagles, peregrine falcons, and the American white pelican. Scientist's rank species protected or endangered according to how many they are able to find. They also study how many offspring the animals are able to raise in their wild habitat.
The top game fish in Flathead Lake are kokanee, bull trout, cutthroat, and lake trout or macknaw. These species maintain their numbers by natural reproduction. The lake holds the state record for lake trout (42 pounds) and bull trout (26 pounds).
Each of the special units of Flathead Lake State Park are set up around a campground, here is some more information on each unit:
Go To Big Arm
Go To Finley
Go To Wildhorse
Go To Yellowbay
Go To Westshore

Big Arm

The Big Arm Unit is on the southwest part of the lake, on Big Arm Bay. Boat rentals and cruises are available to take tourists to Wildhorse Island. Big Arm Bay has a long pebble beach, where Canadian geese may be seen. It is also nice to sit on the shore and gaze at the boats quietly sailing by. The site has campgrounds, a marina, picnic, and swimming areas. Fishing is good at Big Arm; anglers catch perch, trout, and whitefish. Flathead Lake has a variety of fish species but is best known for its trout. The main species in the lake are bull trout, cutthroat trout, and lake trout. Fishing in Flathead Lake is best from a boat; rentals are available at various locations.

The lower Flathead River exits the lake at Polson and eventually flows into the Clark Fork River of the Columbia. Many people fish the Flathead rivers with fly fishing rods. You might see them casting back and forth, while they stand in the river. They wear hip boots to do this kind of fishing because the water is very cold. Anyone fishing on the Flathead Indian Reservation, needs to buy a tribal day use permit and a tribal fishing permit.

For more information and maps visit the Montana Fish, Wildlife and Parks listing for Big Arm.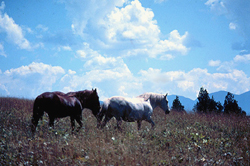 This is one of North America's largest islands, at 2,163 acres. It is now being preserved as a Wilderness Area. Wildhorse Island is home to many species of wildlife, horses among them. It is widely believed that Salish and Pend d'Oreille tribes brought horses to the island first. They hid their horses on the island to keep the Blackfoot tribes from taking them during raids. In 1977, the Bureau of Land Management brought wildhorses back to the island again. Bighorn sheep were brought to Wildhorse Island as a tourist attraction, but the herd grew so much that many had to be relocated.

Bird watchers love the island because it is home to a great number of species. Among the birds found on the island are a variety of ducks, swans and geese, red tailed hawk, bald eagle, and many small songbirds. There is a wonderful variety of bird and wildlife species to be found everywhere around Flathead Lake.

The only way to get to Wildhorse Island is by boat. There are cruises and boat rentals available from Big Arm. The island is a day use area only, and there are some special rules to follow.

For more information and maps visit the Montana Fish, Wildlife and Parks listing for Wild Horse Island.

Finley Point is hidden away in a conifer forest. It is located near the south end of Flathead Lake. There are campsites here, and some of them have boat docks. This area is a good place to fish for yellow perch and lake trout.

Finley Point is about 11miles north of Polson on Montana Highway 35. In addition to camping and fishing, Finley point also has picnic sites, a swimming area, and boat launch. Fishing for whitefish is said to be great and is done from a boat since whitefish live in deep water. Whitefish can get up to 22 inches long. In the summer, lake trout also like the deep water and can be found in the middle of Flathead Lake. Try using large lures for these fish.

Polson is the town closest to Finley Point. (See the description of Polson under Big Arm.)

For more information and maps visit the Montana Fish, Wildlife and Parks listing for Finley Point.

At Wayfarers you can enjoy the sunset as you walk along the beach, or discover the wildflowers along one of the local trails. The distant mountains make the view spectacular. Much of the shoreline here is very rocky, but it is a popular place to fish. Wayfarers is a wonderful place to look for birds and other wildlife. A variety of ducks may be found here and in Bigfork Bay. Townsend's solitaire, a songbird, thrives at Wayfarers. Probably the most noticeable bird you will encounter is the osprey, because their nests are easily visible on top of telephone poles. It is easy to confuse ospreys with bald eagles, but ospreys are smaller and their bellies are white.

Bigfork is the town closest to Wayfarers. It is full of fancy restaurants, art galleries, and resorts. One interesting attraction in Bigfork is its summer reparatory theatre. Tourism is the most important industry in Bigfork, and fruit growing is the next most profitable business. Bigfork Bay has boat docks and places that rent sailboats to the public. Also located in Bigfork are golf courses and hiking trails.

The Jewel Basin hiking area has wonderful scenic vistas, offering the hiker awesome views of Flathead Lake. There are many different species of wildflower found in the area. Beargrass, showy daisy, Indian paintbrush and fireweed decorate the forest floor. There are 35 miles of trails, including some day-trip loops and some longer trails that are more suitable for backpacking trips.

If you are in Bigfork, watch for these events:
Cherry Blossom Festival
Fireworks in Bigfork
Full Moon Cruise
World's Hardest Golf Tournament



For more information and maps visit the Montana Fish, Wildlife and Parks listing for Wayfarers.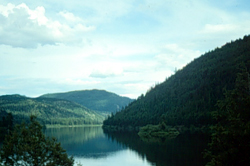 Just like all of the other units of Flathead State Park that have been described, Yellow Bay is a beautiful site with all kinds of recreational possibilities. It has picnic and camping areas, swimming, boat launches and fishing. In Yellow Bay, water-skiing is a favorite activity. This is the deepest part of Flathead Lake, up to 370 feet, so the water may be quite cold. Boats, water recreation equipment, and personal watercraft may be rented locally.
Some of the unique qualities of Yellow Bay lie in its surroundings. Flathead Cherries are grown in this region which has a moderate climate and high humidity in summer. Winters are milder here than much of the state.
Sweet cherries are as important to the local culture as they are to the local economy. While the cherry trees are in bloom, the locals celebrate with the Cherry Blossom Festival. (See description under Bigfork) The festival includes various activities, including an art show, and lots of cherry desserts. If you are in the area during the cherry harvest in August you may enjoy picking your own cherries at a "U-pick" orchard. The cherries at U-pick orchards are generally less costly than those found at cherry stands.
Yellow Bay is not very far from Swan Lake, where the annual Huckleberry Festival is held in August. Huckleberries may be picked in public access areas at no charge. They can also be purchased from local venders who set up stands in public places. The area around Swan Lake is full of small lakes and streams. It is a great place for canoeing.
Local Events:
For more information and maps visit the Montana Fish, Wildlife and Parks listing for Yellow Bay.
West Shore is located in a mature forest overlooking Flathead Lake. The park's glacially-carved rock outcrops give spectacular views of Flathead Lake and the Mission and Swan Mountain Ranges. The shoreline is rocky and fishing and boating are popular. The campground is located above the lake in a fir, pine, and larch forest on 196 acres at 2,934 feet in elevation. The park offers vault toilets, grills/fire rings, firewood, picnic tables, trash cans, drinking water and interpretive displays. There are four golf courses and three museums located nearby in Kalispell.
For more information and maps visit the Montana Fish, Wildlife and Parks listing for West Shore.
How to Find It!
Flathead Lake is located in the northwest region of Montana. The east shore is bordered by Montana Highway 35 and the west side of the lake is accessible from US Highway 93 between Polson and Kalispell.