Moss Mansion
Updated: August 20, 2020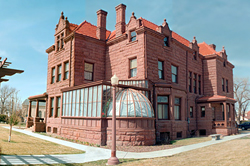 Experience turn-of-the-century life in Billings as the Preston Boyd Moss family lived it, in the historic Moss Mansion. Moss arrived in Billings in 1892, and became owner and president of the First National Bank of Billings. He later became a key partner in construction of the Northern Hotel and owner of the Billings Evening Journal, which he consolidated with the Billings Gazette in 1908.
Today the Moss Mansion is listed on the National Register of Historical Places, and it has remained virtually unchanged since 1903 when the Moss family moved in.
The house was designed by Henry Janeway Hardenbergh, the New York City architect who designed the original Waldorf Astoria and Plaza Hotels in New York City, the Willard Hotel in Washington, D.C., and the Copley Plaza Hotel in Boston.
The elegant interior of this home features original furniture, Oriental carpets, custom draperies, handmade light fixtures, and a mixture of decorating styles. W. P. Nelson, a Chicago designer, combined extensive use of mahogany, oak, and red birch to add warmth and luster to each room in the house.
Updated: August 20, 2020