Rocky Mountain Elk Foundation Wildlife Visitor Center
Updated: August 20, 2020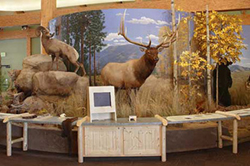 Founded in 1984 and headquartered in Missoula, Montana, the Rocky Mountain Elk Foundation is a nonprofit organization dedicated to ensuring the future of elk, other wildlife and their habitat. The Elk Foundation and its partners have permanently protected or enhanced 5 million acres, a land area nearly twice as large as Yellowstone National Park. Nearly 500,000 acres previously closed to public access are now open for hunting, fishing and other recreation. The Elk Foundation has more than 150,000 members, a staff of 150 and 11,000 active volunteers.
The Rocky Mountain Elk Foundation Elk Country Visitor Center is proud to be one of the newest and best conservation education facilities in the Northwest. The Elk Country Visitor Center features hands-on conservation and hunting heritage exhibits for all ages. Our exhibits invite you to learn more about elk, elk country and the role the Elk Foundation plays in conservation. Discover the diverse wildlife that calls elk country home, explore the role we all play in conserving habitat, and connect with the rich heritage that makes the outdoors so important to so many of us. Along the way, you'll hear elk bugle, test your knowledge of wildlife, identify animal tracks, feel the weight of an elk antler, enjoy wildlife conservation films, and more.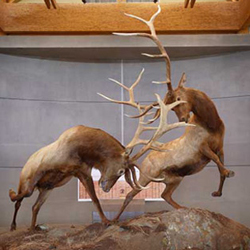 The Center also includes a Lewis and Clark display, an impressive collection of world record elk mounts, a western wildlife diorama and a state of the art conservation theater. Shoppers will also enjoy the Elk Country gift shop full of beautiful wildlife art and many hand crafted and Montana-made creations. The public is welcome and admission is free. Open year round.
Stretch your legs and enjoy the beautiful, wooded nature trail that winds its way around the 22-acre Elk Foundation property. Watch for the white-tailed deer, turkeys, bald eagles, owls, trout and other wildlife that frequent the property.
Updated: August 20, 2020