Daly Mansion
Updated: August 20, 2020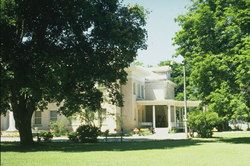 Marcus Daly, an enterprising Irish immigrant, purchased the Anthony Chaffin homestead in 1886 to serve as his family's summer residence. In 1890 he built the imposing Queen-Anne-style Victorian mansion the family referred to as "Riverside." in Hamilton, Montana.
In 1910 his widow, Margaret, renovated the mansion to its present Georgian-Revival style. The Daly Mansion has over 42 stunning rooms, with 25 bedrooms, 15 bathrooms, and seven fireplaces, five of which have imported Italian marble. The three-story, 24,000-square-foot mansion is situated on 50 tree-planted acres in the heart of the Bitterroot Valley.
Marcus Daly is remembered for his transformation of the Anaconda silver mine into a copper empire in 1881. He recognized the fortune that could be made by building a smelter and the company town of Anaconda, just 28 miles from Butte, to support his new business. By 1890 the copper mines of Butte were producing over 17 million dollars worth of copper a year, making Marcus Daly a very rich and powerful man. In addition to his mining interest, Daly expanded his business operations to include timber.
He eventually acquired several ranches and farms to establish the 22,000-acre farm he called the Bitterroot Stock Farm. Daly's passion was to create the greatest racehorse breeding and training operation in the country. He hired the best trainers, veterinarians and jockeys in North America, and the Riverside Farm soon became famous across the country as his horses broke American records at the top racetracks in the East.
In 1901, after Daly's death, 369 of his racehorses were sold at a series of auctions at Madison Square Garden in New York City. It has been called one of the greatest horse racing-stock sale America has ever witnessed, as the auctions netted $728,755.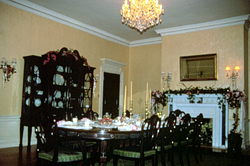 From 1888 until his death in 1900, Daly was embroiled in a bitter political and personal battle with fellow copper magnate, William A. Clark. Their political feuds included Daly's effort to make Anaconda the capital of Montana and Clark's attempts to serve as Montana's U.S. Senator. Their legendary disputes were filled with massive bribery, corruption, and vote-buying scandals only a "Copper King" could afford. With Daly backing Anaconda and Clark supporting Helena, it is estimated that in 1894 each man spent almost $3 million to determine which city would become Montana's permanent capital. Clark was successful in thwarting Daly's attempts, as Helena was chosen as the capital city. Daly died in New York City on November 12, 1900, from complications of diabetes and a bad heart, at the age of 58.
After Mrs. Daly's death in 1941, the mansion was boarded up until 1987, when it was opened to the public. The mansion grounds feature a variety of trees, a tennis court, swimming pool, greenhouse and laundry building. The mansion and grounds offer tours in addition to special activities and functions, including picnics, weddings, reunions, murder mysteries, concerts, doll shows, and a special Christmas open house.
The Daly Mansion is a National Historic Site owned by the state of Montana and operated and maintained by the Daly Mansion Preservation Trust. Tours are held hourly 11:00 a.m. through 4:00 p.m.. Tours in off-season are offered by appointment.
Updated: August 20, 2020