Conrad Mansion
Updated: August 20, 2020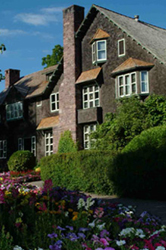 In 1868, at the age of 18, Charles Conrad left his boyhood home in Virginia and traveled to Fort Benton in the Montana territory. There he built a trading and freighting empire on the Missouri River that operated for more than 20 years. Conrad lived through the Civil War and the settling of the West, and left an indelible mark on Montana. He founded the city of Kalispell in 1891, and four years later built this historic home.
This Norman-style mansion is an example of luxurious 19th-century living, from its exquisitely landscaped gardens to its collection of original furniture, toys, and clothing. The 26 rooms are originally furnished, and have been completely restored to include tiffany windows, bedrooms with canopied four-poster beds, bathrooms with imported-marble lavatories, and eight fireplaces.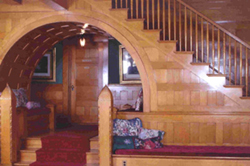 The Conrad Mansion in Kalispell has been placed on the National Register of Historic Places and has operated as a museum since 1976. The 13,000 square foot, Norman-style mansion is perhaps the most authentic example of the luxurious turn of the century architecture and living style in the Pacific Northwest.
The museum is surrounded by three acres of landscaped gardens, including concrete walkways, gazebo, and original dry-stone fence. The guided tour takes an hour and concludes in the Victorian gift shop.
Updated: August 20, 2020