St. Helena Cathedral
Updated: August 20, 2020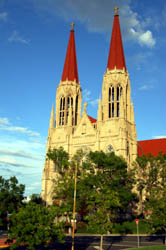 One of the most prominent landmarks in the Helena area is the grand structure of St. Helena Cathedral. A cathedral is a church where people gather to pray and worship under the leadership of a bishop. The word cathedral means chair. The church where the bishop presides is called a cathedral because it has the bishop's special chair.
In 1904, Bishop John Patrick Carroll envisioned building a Cathedral that would be a fitting monument to God and a tribute to the Diocese and the city of Helena. This was a project that had been dear to the heart of Bishop Brondel, the first bishop in Helena. In 1905, the land for the Cathedral was purchased by Thomas Cruse. Thomas Cruse was a placer gold miner who had made his fortune in Marysville at the Drumlummon Mine. He was the largest single contributor to the Cathedral project, although there were many contributors throughout western Montana as the community raised this beautiful structure.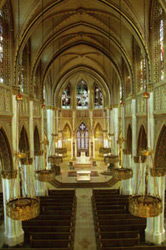 The corner stone, of Indiana Bedford limestone, was laid on October 4, 1908. Mr. A.O. Von Herbulis of Washington, D.C., was chosen to be the architect for the Cathedral. The architectural style of the building is modeled in its general lines after the gothic Votive Church in Vienna. The two tower doors of equal size are 8 feet wide and 11 feet 6 inches high. They are crowned with three rims of arches, delicately carved in oak leaf, and resting on graceful columns. Majestic twin spires rise 230 feet above the Warren Street sidewalk and these are topped by gold-leafed crosses which measure 6 by 12 feet. In the north belfry there are the chimes of 15 handcast bells weighing thousands of pounds. The project was completed in time for service on Christmas Day 1914.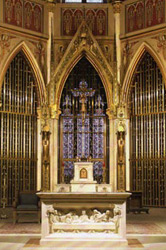 As magnificent as the exterior of the Cathedral is, the interior is just as breathtaking. The stained glass windows in the nave are 9 by 15 feet; those of St. Helena and Constantine are 16 by 21 feet. The stained glass windows follow the historical tradition of telling biblical stories. In the Middle Ages, art was used by the church to instruct people in their faith. These beautiful windows were created by the world renowned firm of F.X. Zettler of Munich, Bavaria. In addition to the highly sculptured marble altars, statues, and Stations of the Cross, of the interior, the Cathedral of St. Helena also boasts a fine open-air sculpture gallery. There are 27 life-sized statues of many renowned figures from the worlds of science, history, literature, and art, theology. 
The St. Helena Cathedral is open year-round, from 10:00am - 4:00pm. Daily Mass is held in the Day Chapel on Monday, Wednesday, and Friday at 8:00am; and on Tuesday and Thursday, 5:20pm. Pre-arranged guided tours take 1 hour.
Updated: August 20, 2020