Canyon Ferry Dam and Reservoir
Updated: August 20, 2020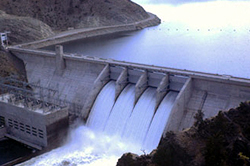 This reservoir, one of Montana's most popular state parks, is located twenty minutes east of Helena. During late fall, Canyon Ferry serves as a critical feeding ground to support the bald eagle migration south along the Rocky Mountain corridor from Canada to their winter nesting sites. When bald eagles find food in abundance, spawning kokanee salmon for instance, they linger to feast. Migrating eagles spot others feeding and stop to investigate. Such eagle congregations can grow to 500 birds or more, depending on how much food there is to go around. Eagles will return each year, in ever increasing numbers. However, if fish are not present, the birds will move on south, feeding on fish, waterfowl or carrion. To see our national symbol swooping and soaring above Montana's rivers in great numbers is to witness a powerful drama.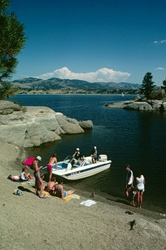 The visitor center at Canyon Ferry Dam features hands-on displays and excellent interpretive information. At the Riverside state park located below the dam, volunteers set up spotting scopes for visitors to get a bird's-eye view of these magnificent raptors. The best times to watch the eagles are early morning and late afternoon from late October to mid-December. Warm clothes are strongly recommended. Canyon Ferry is also noted for its excellent fishing, boating, sailing, and camping.
How To Find It!
Canyon Ferry Dam & Visitor Center at Canyon Ferry Reservoir is located approximately 20 miles east of Helena. Take Highway 12 south for 10 miles, turn to the east on Highway 287, and then drive approximately 8 miles to dam.
Updated: August 20, 2020