Buffalo Jump Archaeological Site
Updated: August 20, 2020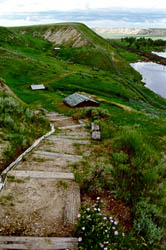 Nestled in the shadow of the Bear Paw Mountains, on the road to everywhere in north central Montana, Wahkpa Chu'gn is the most extensive and best preserved buffalo bone deposit in the northern Great Plains.
Overlooking the scenic Milk River on the western edge of Havre, Montana, Wahkpa Chu'gn offers visitors a chance to journey back in time.
The Buffalo Jump Archeological Site is one of the best preserved buffalo jumps and camp sites in the plains area. On your tour of the site you will view extensive in-place bison kill and campsite deposits at various depths up to 20 feet below surface. These materials are displayed at five locations throughout the site within wooden display houses.
A one-hour guided walking tour is available daily during the regular season which runs from June 1 through Labor Day. Tours are also provided at any time of the year, weather permitting, by calling or emailing for an appointment.
Dating to 2,000 years ago, visitors are given a chance to view up close, with no glass cases or "incredible simulations," extensive Native American material and buffalo bone remains.
This is not a sterile museum, you get to see actual archaeological excavations, with a 20-foot wall of buffalo bones, buffalo skulls, arrowheads, etc. left where they were found for you to see.
Wahkpa Chu'gn was discovered in 1962 by John Brumley as he was exploring the bluffs near Havre Montana. The local amateur archeaology group conducted some initial excavations and discovered the significance of the site.
In the late 1960s and 1970s the site was futher excavated and developed by the Montana State Archaeological Society and the Milk River Archaeological Society under the auspices of the H. Earl Clack Museum and Hill County. One of the early excavators was Les Davis, then working on his Doctoral degree, and now Curator of Archaeology and Ethnology at the Museum of the Rockies in Bozeman, Montana.
Many excavations from the late 1970s and on were conducted by now archaeologist John Brumley. In 1992 John and Anna Brumley took over day-to-day managment of the site from the H. Earl Clack Museum. They continue to develop access to the site and interpretive material for the site to enhance the visitors' experience.
Updated: August 20, 2020