Montana Fish
Updated: August 10, 2020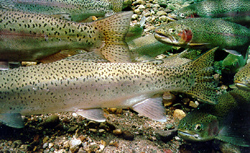 Montana's pure cold water is home to paddlefish, graylings, and cutthroat trout. From legendary trout streams to spectacular walleye reservoirs, Montana is an angler's dream. Whether casting a dry fly to a wild trout, trolling for some of the West's largest walleye, or simply drifting a baited hook through the old fishing hole, Montana has it all. Montana is noted for its blue-ribbon streams!
---
Thanks for visiting the Montana Kids' Site! We hope you've found the information both educational and entertaining. If you have comments or suggestions on ways we can improve the site please send us email at montanakids@visitmt.com.
You can also help your family plan a trip to Montana. Have your folks request a statewide travel packet by clicking here.
---
All contents © 2018, Montana Office of Tourism and Business Development. All rights reserved. Please visit us again at http://montanakids.com