Ravens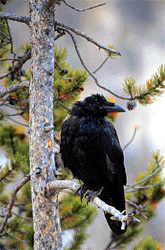 The raven is common all over the world in a variety of habitats. Here in Montana, ravens can be found living anywhere from the highest mountain peaks to coniferous forests and even in people's backyards!
Although they are frequently confused with crows, ravens differ in many ways. Ravens are much bigger than crows. Mature ravens stand 24 to 27 inches tall; crows only grow to a height of 17 inches. A raven's beak is larger and heavier than a crow's beak. Ravens have wedge-shaped tails, whereas crows have fan-shaped tails. The sound a raven makes is also noticeably different (deeper and throatier) than a crow's call and more varied.
Ravens form long-term pairs, perhaps even becoming life-long mates according to some sources. They build large nests in trees or on cliffs. The nest is a mass of sticks and twigs, lined with grass and bark, and often with colorful scraps and strings that catch the builder's eye. The female generally lays four to seven greenish-brownish eggs. Both of the proud parents care for the nestlings, which stay in the nest for about six to ten weeks.
The raven is no bird brain! As a member of the crow family, which includes magpies, jays, nutcrackers and ravens, it is among the most intelligent birds. It can remove lids from garbage cans or trick other animals into giving up their food. In some areas they have learned to drop mussels and snails on rocks or roads to break open the shells. The most enterprising of ravens will drop two snails at once to save time and energy!
Ravens are omnivorous, which means they eat both plants and animals. In fact, ravens will eat just about anything, including the occasional pickings from garbage cans for the city-dwelling ravens. Their usual diet contains insects, seeds, carrion (meat from the carcasses of animals killed by predators), the eggs and nestlings of other birds, and frogs. Seasonal berries and fruit are also an important part of a raven's diet. Ravens save up food, usually by burying it. Ravens occasionally search for food in groups, but they are largely solitary, so they rarely gather in large flocks like crows.