Montana Railroads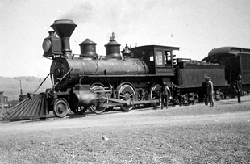 Although trails wound their way through the Montana frontier, the first major freight and transportation facilities into the state were the steamboats along the Missouri and Yellowstone Rivers. Later, several well-marked "highways" gave connection by wagon train with the east and south.
The telegraph linked Virginia City with Salt Lake City as early as 1866 and by 1910 a network of railroads was constructed across the state. The railroads played a significant role in the economic development of Montana.
After the Civil War, railroad builders turned their attention to the far West, where the local people — ranchers, miners, and town boosters — begged for rail connections to lucrative markets. To remote Montana communities the railroads meant everything. Local promoters dreamed of a railroad through their town that would bring them instant prosperity and the promise of continued growth. Ranchers needed railroads to reach national and international markets, and miners needed the railroads to import heavy machinery and export precious metals. In the 1880s, this dream was realized as Montana became one of the leading industrial mining areas in the world which combined with livestock production, led to flush times and statehood in 1889.
The dream of a transcontinental railroad captured men's minds before the Civil War but differences between the North and the South made it impossible. Finally in 1869 the Union Pacific-Central Pacific line linked Omaha to Sacramento. The line followed the old Oregon Trail route. The announcement of the first transcontinental railroad convinced the states and communities far removed from its tracks that they too should have lines to serve them. In July, 1864, Congress agreed and issued a charter for construction of the Northern Pacific Railroad, which would link Minnesota and the Pacific coast. Despite an enormous land grant from the government hard financial time's lead to the bankruptcy of the Northern Pacific. Montanans felt that they would be forever cut off from civilization.
However, at the time, other railroads had their sights on Montana. The Utah and Northern Railroad began construction northward from Salt Lake City to the rich mining regions of southwestern Montana. Their plan was to link the completed Union Pacific with Helena and Butte. Construction proceeded at a snail's pace and the Union Pacific, fearful of competition from the resurrected Northern Pacific bought the Utah and Northern and pushed ahead with construction. On the evening of December 26, 1881, on a bitterly cold night, the first Utah and Northern Union Pacific train entered Butte. The railroad had won the race and tapped the lucrative Butte mining trade.