The Montana Historical Society: Montana's Museum
Updated: August 6, 2020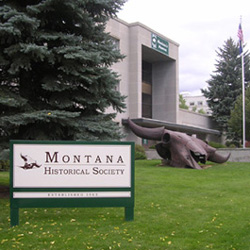 People have lived on the magnificent land that is now Montana for more than 13,000 years. Montana's Museum is where you learn the stories of the people who have called Montana home. Located across the street from the State Capitol in Helena, the museum is a place you must visit on your trip to Montana!
Here, the "Montana Homeland" exhibit shows you the adventure that is Montana—from the Ice Age and first peoples, to the coming of mountain men and gold miners, through later waves of settlement right up to the Great Depression.
The exhibit "Neither Empty Nor Unknown: Montana at the Time of Lewis and Clark" focuses on the Native Nations whose homelands the explorers passed through on their way to the Pacific Coast.
The Society's renowned "Mackay Gallery of C. M. Russell Art" is a feast for the eyes and will delight all who love Montana and the West. Russell's masterpiece "When the Land Belonged to God" and the important, but tiny, "Waiting for a Chinook" are among the many works that vividly recall "the West that has Passed."
In addition, each year the museum's changing exhibit galleries feature different aspects of the Society's collection and Montana's history.
The Montana Historical Society was founded in 1865 by Montana's first Territorial Legislature, making it one of the oldest such institutions west of the Mississippi that's still operating. In addition to the museum, the Society's headquarters are also home to the state's Research Center (which includes the photograph archives, manuscript archives, and library) and the State Historic Preservation Office. It is a researcher's paradise, from the genealogist to the academic historian. The Society's Publications Office produces the national award-winning Montana: Magazine of Western History and contemporary books on Montana and the West. Its Outreach and Interpretation department provides educational programming and resources for adults and students.
Website: The Montana Historical Society. Or, check out these resources just for students.
Updated: August 6, 2020