Meriwether Lewis
Updated: August 6, 2020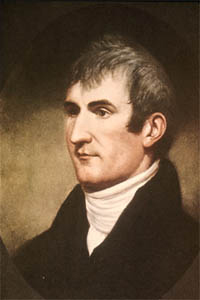 Meriwether Lewis was only 28 years old when he became the leader one of the most important missions in the history of the United States—the Corps of Discovery. Lewis was President Jefferson's obvious choice for leader of the expedition because he had been working as Jefferson's secretary since 1801.
Lewis was bright and he possessed a curious mind. He had a natural scientific outlook, so he noticed the world around him and was fascinated by it. And though he had very little formal education, Lewis received instruction before the expedition on everything from preserving plant and animal specimens to navigating by way of the stars to determining exact latitude and longitude.
He also studied medicine under the United States's leading physician, Dr. Benjamin Rush. Lewis' brief medical training paid off during the expedition when he treated not only members of the Corps, but Indians encountered along the way. He was even able to amputate a young Indian boy's toes during the expedition's winter stay with the Mandans.
After the expedition, Jefferson appointed Lewis governor of the Louisiana Territory and Lewis promised Jefferson he would transform his journals and other field notes into a complete report. He died before he could start the project. He was only 33 years of age. By most accounts, Lewis committed suicide; however, some have suggested Lewis's death is actually an unsolved murder.
Read about Lewis's beloved dog Seaman.
Updated: August 6, 2020