23. Camp Disappointment
Updated: August 7, 2020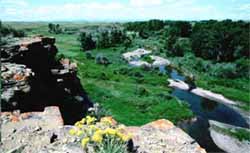 On July 22, 1806, Lewis stopped here during his northward exploration of the Marias River. It was not the natural boundary for the Louisiana Purchase he had hoped for. He had also hoped to find an easy portage route between the Marias and Saskatchewan rivers. Such a route would have allowed America to divert Canadian fur trade into American territory at the Missouri River. It was not to be. Dreary weather and gloomy prospects gave this camp its name.
Lewis and three companions, George Drouillard and the Field brothers, Joseph and Reubin camped here for three days before beginning their return to the Missouri. It was a risky place to stay because they were deep in the land of the Blackfeet. In fact, the next day, they encountered eight Blackfeet warriors and shared a camp with them. Unfortunately, Lewis also shared the fact that Americans would trade with all the tribes in coming years, including enemies of the Blackfeet.
Early the next morning, Lewis woke to the sounds of struggle. The warriors and expedition members fought for possession of the Corps' rifles and horses. Two of the warriors were killed in the only fatal encounter of the expedition.
Updated: August 7, 2020