Crow Indian Reservation
Updated: August 5, 2020
The Crow Reservation is in southcentral Montana, bordered by Wyoming to the south. The northwest boundary of the reservation is about ten miles from Billings. About 75 percent of the Crow tribe's approximately 9,300 enrolled members live on or near the reservation. Many speak Crow as their first language.
For many years the vast coal deposits under the eastern portion of the reservation remained untapped. One mine is now in operation and is providing royalty income and employment to tribal members. The Crow use a portion of their land for irrigated and dryland farming and other portions for grazing land. They maintain a buffalo herd of 300 head. Crow Agency is home to Little Bighorn College. The college houses the Institute for MicroBusiness Development and offers degrees in eight fields.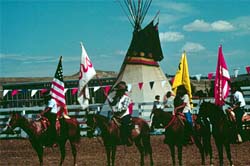 Other points of interest on the reservation are:
Events
Crow Native Days – third weekend of June
Crow Fair & Rodeo – third weekend of August
The Crow tribe call themselves "Apsaslooka", which means "children of the large-beaked bird." Other tribes called them "sharp people," meaning they were as crafty and alert as the raven. The Crow originally lived in the upper Midwest. The tribe began migrating west as early as the late 1300s. They migrated to North Dakota around 1600 and then continued their movement west. Finally, they settled along the Missouri and Yellowstone River bottoms in Montana.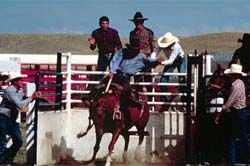 Originally planters, as the Crow moved west, they came to rely on hunting, and they built a life around the buffalo. When the horse was first introduced in the 18th century, the Crow quickly became excellent horsemen and prospered.
William Clark met the Crow in 1806, and spent a month in Crow country. The expedition members, and later the fur traders, developed good relationships with the tribe. Nonetheless, the Crows, like so many other tribes, found themselves vulnerable to Euro-American diseases. Smallpox and other diseases reduced the tribe by over twenty percent.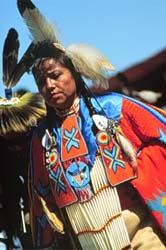 At the same time, the buffalo were disappearing from the plains, and the tribe was forever changed. Despite their good relationship with the government, the tribe's lands dwindled and treaties were broken. Additionally, their traditional enemies, the Sioux and the Northern Cheyenne, invaded Crow land. The other tribes tried to get the Crow to work with them against the tide of white settlers, but the tribe did not have a hostile relationship with the government. George A. Custer had six Crow scouts at the Battle of The Little Bighorn. The reservation boundaries were finally fixed by 1904. The tribe has returned to an agricultural way of life, much like their ancestors 300 years before.
For more information about the Crow Reservation contact:
Crow Reservation
PO Box 159
Crow Agency, MT 59022
406-679-1568
Website: VisitMT - Crow Reservation
Updated: August 5, 2020