Jumping Buffalo: Places to See
Updated: August 6, 2020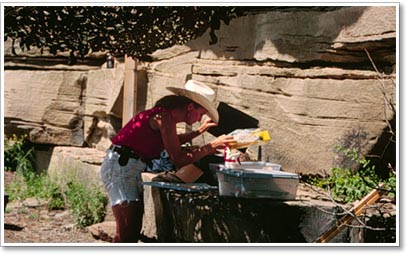 Two well-preserved examples of the pishkun survive in Montana. First Peoples Buffalo Jump State Park formerly, Ulm Pishkun is possibly the largest bison cliff jump in North America. Native people used this site for at least two thousand years before Lewis and Clark's expedition through Montana. Not only is this site an excellent example of a pishkun, but the State Park has also opened a new on-site education center. Exhibits give the uninitiated a fair look at native cultures and hunting practices. First Peoples Buffalo Jump State Park lies just south of Great Falls and is open all summer.
The Madison Buffalo Jump is located about 25 miles southwest of Bozeman on Buffalo Jump Road. Situated at the edge of a broad valley carved out by the Madison River, this site was used as recently as 200 years ago. Tons of bones and the remains of an extensive tipi village are visible around these limestone cliffs. Both jumps stand out as archeological treasures. Bone shards and clay pottery are just pieces of the evidence that a rich culture surrounded the buffalo for thousands of years.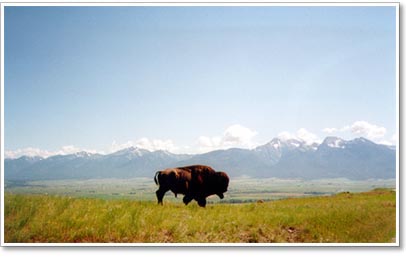 So, you say, what about some live buffalo? Okay, we can show you that too. Thanks to Teddy Roosevelt and the American Bison Society, the National Bison Range outside Moiese was established in 1908 and is one of the oldest wildlife refuges in the country. Much of the 18,500 acre Range lies on native Palouse Prairie. Elk, deer, pronghorn, black bear, coyote, and ground squirrels share the area with some 350 to 500 bison.
Visitors can take a driving tour along which they are sure to see small herds of buffalo grazing on ancestral lands. Over 200 species of birds also live on the National Bison Range. In 1921 the area was designated as a refuge for birds as well. Nearby, on the Ninepipe and Pablo National Wildlife Refuges, live a wide variety of songbirds as well as waterfowl, bald eagles, herons, and cormorants. The buffalo have long been a part of the high plains ecosystem. The National Bison Range and the preserved pishkuns in Montana are not so much efforts to restore that ecosystem, as they are part of an overall effort to remember it.
Updated: August 6, 2020