Big Hole Battlefield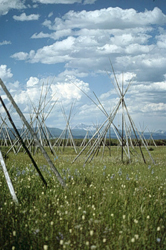 Big Hole Battlefield preserves the site of the pivotal battle in the Nez Perce War of 1877 between Colonel John Gibbon's troops and five bands of the Nez Perce Indians, led by the famous Native American leader, Chief Joseph. On the morning of August 9th, about 750 non-treaty Nez Perce Indians were attacked here by the Seventh U. S. Infantry and civilian volunteers who had been ordered to place the Nez Perce on a small reservation in Idaho.
Trails on the battlefield and exhibits in the museum interpret the history of the conflict, the remarkable 1,300-mile journey of the Nez Perce people, and military practices of the late 19th century.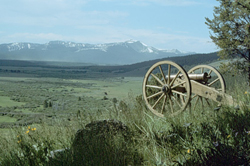 Introductory films are available and park rangers present guided walks on the battlefield during the summer months. The visitor center exhibits and bookstore are open all year except for Thanksgiving, Christmas and New Years. The road to the trailhead and picnic area is closed by snow from late November to mid-April, making the trails accessible on skis or snowshoes only.
Big Hole Battlefield is located 10 miles west of Wisdom, in the "Valley of 10,000 Haystacks," on Highway 43.