Bear Paw Battlefield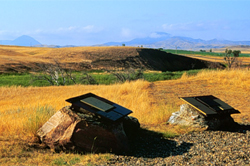 One of three sites of the Nez Perce National Historic Park in Montana, the Bear Paw Battlefield is located 16 miles south of Chinook on Highway 240.
Bear Paw Battlefield is the final stop on the Nez Perce National Historic Trail. The 1,300-mile trail starts in Joseph, Oregon, and follows the path of the non-treaty Nez Perce bands during the 1877 Campaign. The trail passes through federal, tribal, state, local and privately owned lands.
Following the breakout of war in Idaho, nearly 800 Nez Perce spent a long and arduous summer fleeing U.S. Army troops first toward Crow allies and then toward refuge in Canada. Forty miles short of the Canadian border and following a five-day battle and siege, the Nez Perce ceased fighting at Bear Paw on October 5th, 1877, in which Chief Joseph gave his immortal speech: "From where the sun now stands, I will fight no more forever." Interpretive signs and markers recount the events of this historical battle.