State Animal Grizzly Bear
Updated: August 10, 2020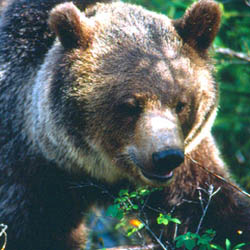 Secretary of State Jim Waltermire wanted to give Montana school children a lesson in how government works by letting them choose the state's official animal in 1982. The Office of Public Instruction, under State Superintendent Ed Argenbright, and the Montana School Boards' Association, under Executive Director Wayne Buchanan, endorsed the State Animal Project.
More than 55,000 students in 425 schools participated. They nominated 74 different animals native to Montana. Students conducted primary and general elections, complete with posters, voter rosters, speeches, campaign buttons, bumper stickers, and party caucuses. One teacher said, "We had two school rallies that would put the Democratic conventions to shame." When students finally voted, the grizzly bear won by a two-to-one margin over the runner-up, the elk.
In 1983, legislators acknowledged the students' efforts. Senator Larry Tveit of Fairview sponsored the Grizzly Bill in the Senate, and Representative Clyde Smith of Kalispell was the sponsor in the House. More than 1,000 school children attended the two hearings on the Grizzly Bill. A limited number testified and others submitted written testimony.
Among the arguments favoring the grizzly:
"Montana is really the only one of the lower forty-eight states that has a grizzly population. That makes the grizzly unique to Montana."
"By its very size, strength, and beauty, the grizzly represents an awesome spectacle. Montana has the same characteristics."
"It has historic significance. Lewis and Clark made numerous references to grizzly spottings and episodes in their journals."
Among the arguments against the grizzly:
"The grizzly by its very nature is not a friendly animal. Montanans, on the other hand, are friendly."
In visiting with students around the state, Secretary of State Waltermire said, "I believe they admire the grizzly for its size, strength and fearless nature. Also, the grizzly population is not only declining, but seriously threatened, and this adds to the students' attraction to the bear."
Throughout the legislative period, 100 posters of animals submitted by school children from throughout the state were on display in the state capitol rotunda. Nine of the posters became part of the permanent collection of children's art in the Montana Historical Society. The State Animal Project received state and national media attention.
The Grizzly Bill passed in both houses by wide margins. On April 7, 1983, Governor Ted Schwinden, wearing a grizzly bear cap, signed the bill into law designating the grizzly bear (Ursus Arctos Horribilis) as the official animal of the state of Montana.
On April 21, 1983, Representative Clyde Smith presented a large oil painting of a grizzly bear, created by Elmer Sprunger of Bigfork, to Secretary of State Waltermire on behalf of the 55,000 school children who participated in the State Animal Project. The painting hangs in the Secretary of State's office today as a lasting reminder of democracy in action by the school children of Montana.
Visit montanakids.com's Plants and Animals section to learn more about grizzly bears.
Special Acknowledgements to: Montana Historical Society, Rex C. Meyers and Norma B. Ashby
Updated: August 10, 2020