World's Shortest River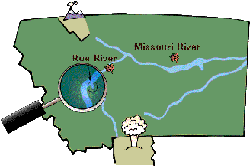 The Roe River is recognized by the Guinness Book of World Records as the world's shortest river. The Roe flows 200 feet between Giant Springs and the Missouri River near Great Falls. The Roe River competes with the D River in Lincoln City, Oregon for the title of the shortest river. Both rivers have been measured on different occasions, with lengths varying from 58 feet to 200 feet. Schoolchildren in Great Falls campaigned successfully to have the Roe River placed in the Guinness Book of World Records. The source of the Roe River, Giant Springs, is the largest freshwater spring in the United States.
The longest river in the state is the Missouri River. The Missouri flows 1,029 miles, from Three Forks to the North Dakota border.