Highest and Lowest Points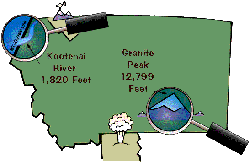 The highest point in Montana is Granite Peak, located in the Beartooth Range in the Rockies. This is near Yellowstone National Park, just north of the border between Wyoming and Montana. At 12,799 feet above sea level, Granite Peak is considered one of the most difficult highpoint ascents in the lower 48 states. The place where climbers most often make one of their base camps on the trek up Granite Peak is an area of subalpine meadows and boulder fields called Froze-to-Death Plateau.
The lowest point is where the Kootenai River exits the state in northwest Montana at the Montana-Idaho border, elevation 1,820 feet above sea level. It drops down to this low elevation after going over Kootenai Falls. The river goes from big, broad, deep, and fast flowing over China Rapids to only small riffles and waves after the 30-foot falls. Due to the low elevation the river flows through, this part of Montana can be surprisingly warm during the summer months.