A Plumm Summer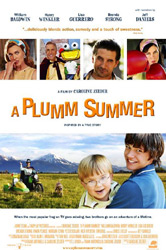 "Just as coast-to-coast networks threaten to make local children's programming a thing of the past, we get this report from Peaks View, Montana, last bastion of mom and pop programming… Froggy Doo has been kidnapped. That's right folks, Froggy Doo, local TV legend and certified puppet, disappeared during a live show in front of hundreds of young fans. And if that's not strange enough, J. Edgar Hoover himself has sent two agents in to investigate the disappearance of Peaks View's favorite frog. I kid you not."
-David Brinkley, on the Huntley-Brinkley Report, 1968
A Plumm Summer is an family movie directed by Caroline Zelder. Based on a true story, it was written by T. J. Lynch, Frank Antonelli and Caroline Zelder. There was a popular locally produced children's TV show on the air called 'Happy Herb & Froggy Doo' in Billings, Montana. Happy Herb was a magician and Froggy Doo was his wisecracking puppet sidekick. Billings was turned upside down one day in 1968 when Froggy Doo was kidnapped and held for ransom.
Froggy Doo, the marionette operated and voiced by Happy Herb, is loved by all the kids except 13 year-old Elliott Plumm. Elliott has outgrown the show and no longer believes in Froggy Doo, which causes a lot of tension between him and his 5 year-old brother Rocky, who believes in everything, especially Froggy Doo. Elliott has no interest in the Frog-napping, but when a trailer pulls into the empty lot next door with young girl named Haley, everything changes. Elliott, Haley, and Rocky band together and embark on a mission to find Froggy Doo. And what starts out as a lark for Elliott becomes essential as the stakes for him rise dramatically: if he can crack the case before the FBI, he could win the heart of the girl he's falling for, bond with his little brother, give his mother the reward money, and maybe earn his father's love.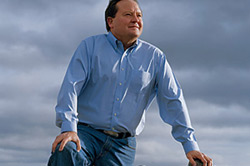 A Plumm Summer stars William Baldwin, Henry Winkler, Lisa Guerrero, Brenda Strong, Chris J. Kelly, Peter Scolari, Rick Overton, Clint Howard, Richard Riehle and Tim Quill.
Did you know?
Governor Schweitzer appears in the movie as the Sheriff!
It was filmed in Bozeman and Livingston, Montana.
Henry Winkler was asked 'What did you like best about making A Plumm Summer?' "Working with children; telling a children's story…I realized then that I got along better with children than adults, and this was a film about the world of children. Then there was the fly-fishing for trout in Montana."
The budget was $5 million!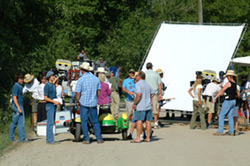 Clint Howard has been the elephant Hathi, Jr. in Disney's The Jungle Book and voice of Roo in Disney's The Many Adventures of Winnie the Pooh. He also was on Star Trek, My Name is Earl, and in the Austin Powers movies.
Brenda Strong has been in ER, Dawson's Creek, Seinfeld, 7th Heaven, Gilmore Girls, Malcolm in the Middle, Spaceballs, and Desperate Housewives. She also played Titania in one of Montana Shakespeare Company's productions of A Midsummer Night's Dream.
Thank you to:
http://www.aplummsummer.com
http://montanafilm.com/production_shots.htm
Wikipedia