Variety Store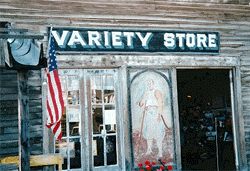 This building is a reconstruction of the original Variety Store. The front is an exact duplicate, while the structure is of concrete block rather than the wooden frame of the original. The first occupant of the building was a Mr. Cook who used it as an auction store. Auctions were an important and frequently discussed part of early life in Alder Gulch. In November, 1866, a novelty store opened at the old stand of Mr. Cook.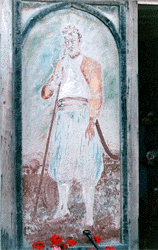 O. P. Raymond advertised a few days later the goods that he intended to sell at his new novelty store, which included produce such as apple among the other articles of trade. Although it is not the most creative name, he dcided to call the store the "Blue Front" because the front of the store was painted blue.
William Douglas bought the variety store in 1872, later selling to William A. Buttermore, who ran it until his death about 1910. The original structure was removed in the 1920's. The current reconstruction houses a penny arcade of the 1910 era.
Special acknowledgements to: John D. Ellingsen, John N. DeHaas, Tony Dalich, and Ken Sievert Tom Cook and Ellen Baumler of the Montana Historical Society.