Opera House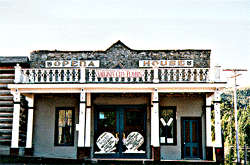 Until about the mid-1880's, or possibly later, a two-story log livery stable stood on this site. Later, by 1900, the present stone structure had been built. The construction may have been prior, as restoration has been done on both the front and sides of the building.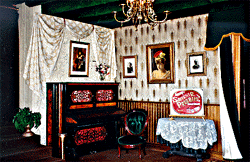 When the Virginia City Players first formed in 1946, they performed on the tiny stage (shared with a square grand piano) in the Bale of Hay Saloon. In 1947, they moved into the present Opera House, at first called the "Old Stone Barn Playhouse."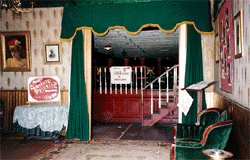 The theatre was constructed in this location "temporarily," and the "balcony" was simply set on counters, which had come from a Deer Lodge drug store and were in storage. Now, over a half-century later, the balcony is still resting on the original counters and the Opera House is going strong. The sheet metal at the rear was added in 1947, and the porch in front is from the famous Morgan Evans mansion near Anaconda.
Special acknowledgements to: John D. Ellingsen, John N. DeHaas, Tony Dalich, and Ken Sievert Tom Cook and Ellen Baumler of the Montana Historical Society.