Nevada City School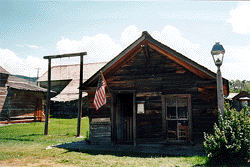 The School House is perhaps the oldest standing public school building in Montana. The school was built in 1867 in Twin Bridges and used until 1873. In 1873 the Masons built a school with their lodge hall upstairs similar to the one in Bannack. It originally stood on ground later occupied by the Orphans Home, but in 1873 was moved to a spot behind what was later the Fox Department Store (later the Campbell Garage), where it was used as a residence until being moved to Nevada City in 1960.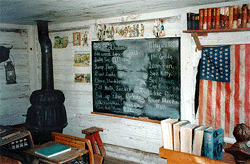 Newton Carl Abbott, in Montana in the Making, says Kate Dunlap opened the first school in Montana in Nevada City in the summer of 1863. It is now gone, but a fair-sized log school building was built at Adobetown, 3/4 mile north of Nevada City in 1873. It is now in Virginia City. 
Montana Post editor Thomas Dimsdale was actually a teacher by profession, and he set up one of the first private school in this cabin where he had 20 students. Tuition was $2.00 a week. Virginia City set up the first school district after the creation of Montana Territory in 1864. Dimsdale was appointed the first Superintendent of Instruction. He, like many other early Montana residents, had come west for his health. In the slang of times, he was a "lunger." Dimsdale died of tuberculosis just after his appointment, and the legislature then made the position elective.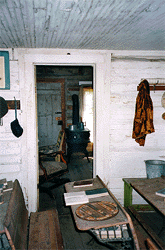 Children were in a unique position in the mining camps of the Western frontier. Some were very industrious and found ways to make money. Mary Ronan, for example, gathered wild flowers to sell in Virginia City. Since gold dust was a common form of currency, some youngsters regularly showed up in the mornings to sweep the saloon floors where dust always found its way during the previous night's business. Most youngsters spent time around the gambling dens and saloons; they learned profanity early. One Virginia City editor admonished parents to break their children of this habit.
Special acknowledgements to: John Ellingsen, Tom Cook and Ellen Baumler, Montana Historical Society.