Madison County Courthouse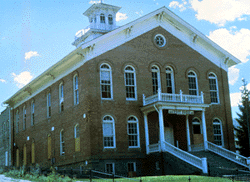 When Virginia City, the county seat of Madison County, was incorporated early in 1864, it was then part of the Territory of Idaho. When Montana Territory was formed a short time later Madison County became one of its eight original counties. The new Montana Territorial Legislature named Virginia City as the territorial capital in the Legislature Act of 1865, moving the seat of government from Bannack. 
Following the gold strike in Bannack and the larger and more significant discoveries in Alder Gulch, thousands of men poured into the Territory. First tents, then log structures, frame buildings and stone and brick structures were erected. Some mining camps died — almost as fast as they were born — but others lived longer. Some, like Butte and Helena (our present state capital) survived, while others like Blackpine, Blackhawk, and Diamond City are gone. Some left only foundations, while others have been totally reclaimed by nature. 
Virginia City lost the honor of being Territorial capital to Helena in 1875, but the town remains. Tourism has replaced mining, and she has retained the seat of county government.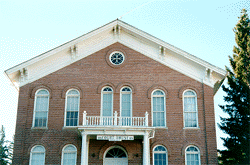 In her glorious days of the 1860's and 1870's, Virginia City served as the center of activity for numerous mining camps along Alder Gulch. Although her population was waning, the local citizenry retained enough faith in her future to plan for a permanent and stately county courthouse. A contract for construction of the brick structure was awarded on May 22, 1875, according to the Commissioners journal. The architect was Loren B. Olds, the contractor was Daniel Steele, and the building cost $35,000. The building was completed in 1876 and has been in continuous use for more than a hundred years. It is the oldest courthouse in the state still used for its original purpose. 
Special attention should be given to the architect of this and other fine structures in Virginia City and elsewhere, Loren B. Olds. He was born in Norwich, Vermont, the son of a millwright. At a young age he traveled westward to Iowa City where after several years he apprenticed himself for three years to a firm of builders and millwrights. He attended night school studying "higher mathematics, drafting and architecture." Following this he set up a business furnishing millwork to other tradesmen.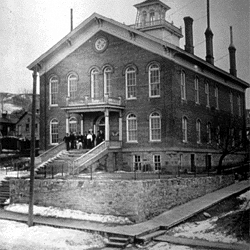 About 1859, with three yoke of oxen and supplies, he traveled to Denver, Colorado, then on to Taos Valley, New Mexico, where he engaged in the construction of a military fort. Like many others, he was attracted by the news of the great gold strike in Alder Gulch and arrived in Virginia City on November 21, 1863. He left his mark on the community not only in the buildings he erected but he also became a member of the Territorial senate. Olds became a Mason, joined the Summit Lodge on September 22, 1867, and served this and other lodges faithfully until his death in Pony, Montana, on December 3, 1914. He had married Roberta Belles Freyer thirty-five years prior to his death. He and his family had moved to Pony in 1899. 
The sturdy courthouse has withstood numerous earthquakes and a disastrous fire. It is a tribute to the pioneers of our state and to the faith of the people of Virginia City.
 By: John N DeHaas, Jr.
Special acknowledgements to: John D. Ellingsen, John N. DeHaas, Tony Dalich, and Ken Sievert, Tom Cook and Ellen Baumler of the Montana Historical Society.