Virginia City Introduction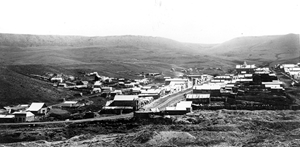 What Makes Virginia City and Nevada City So Important?
Virginia City is the best example of an early Montana community left. While other villages and gold camps became ghost towns, Virginia City stayed a living town with people and businesses. Virginia City was not torn down to make room for new buildings. It didn't burn down or rot away like many other gold towns had. Enough people stayed when the easy gold ran out that the original buildings were preserved where they were built.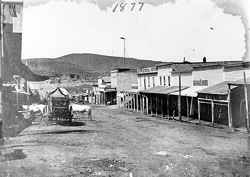 When Charles Bovey came to Nevada City to preserve it, he filled the empty spaces where buildings had been. Nevada City also gave Bovey a chance to save historic buildings from all over Montana. These pioneer buildings would have been burned or torn down. They would have been lost forever along with everything we could learn from them.
Walking through these towns in Alder Gulch is more than a chance to learn. It's a lot of fun. Music-making machines in Nevada City's Music Hall still play. The back streets of Nevada City look like an Old West movie set. In fact, the streets and buildings have been used to make lots of movies. The rebuilt Chinese Temple and Chinese-run stores honor the immigrants that worked the mines and railroads of the West. The story of the Vigilantes begins in Nevada City with a most unusual trial.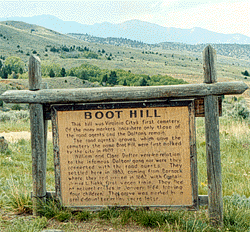 The railroad tracks that connect Nevada City to Virginia City run past a fishing pond, places to pan for gold and jewels, and the big piles of gravel that old gold dredges pushed up into hills.
The trip up Wallace Street in Virginia City takes visitors back to 1864, when a busy gold town was threatened with shootings and robberies. The Vigilantes organized to stop the crime. On the hill above the town, (now known as Boot Hill) five of the men they hanged are buried beneath five white, wooden tombstones.
The gold rush faded, but the town kept on. In ghost towns, people left the town behind when they went to look for new gold fields. The early leaders and families of Virginia City intended to stay there. They built sturdy, fancy houses and businesses that were meant to last a lifetime. They built stone and brick buildings for the government duties they hoped Virginia City would have as Montana's capital city. Virginia City didn't become the state capital, but it did give Montana a lot of its first things. It continues to serve as county seat and a business center for the area.