Charles A.Bovey Biography
Updated: August 21, 2020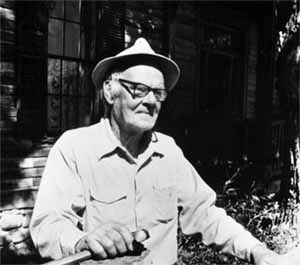 Charles A. Bovey was born in Minneapolis, Minnesota, on May 1, 1907. After college, Bovey followed his father into the flour milling business. In 1926, he went to work for the Royal Mill in Great Falls, Montana. He soon became interested in farming wheat and bought a farm near Great Falls. He also raised sheep and cattle.
Bovey met Rachel Sue Ford and they were married in 1933. Mrs. Bovey was the granddaughter of Robert S. Ford, an early settler and one of the first men to drive a large herd of cattle into Montana.
Bovey's work at preserving history began before Virginia City. When Fort Benton decided to get rid of the Sullivan Saddlery building, Bovey bought it. The famous Montana artist Charles Russell used to visit his old friends there and talk about his cowboy days. Bovey felt the saddlery had to be preserved and that meant moving it. But where would this landmark and the others he collected go?
The giant exhibit hall of the Great Falls Fairgrounds housed Boveys creation, (a recreated Western world, called "Old Town.") Inside, many of the buildings Bovey would preserve were put on display.
In 1942 Charles Bovey was elected to the Montana House of Representatives. In 1944, while staying in nearby Ennis, the Boveys visited Virginia City for the first time. They both loved history and were concerned that the town, the best surviving example of Montana's early history, might slowly die.
At the time, there were fewer than 400 people left in Virginia City. The crumbling buildings were sometimes torn down before they could fall down. Some people used pieces of the buildings to build other things.
The Boveys realized that Virginia City was unique. They saw an entire town preserved where it was built, and felt it must be preserved for future study and enjoyment. At a time when cities and towns were tearing down their old buildings to make room for new ones, the Boveys would work to preserve Montana's history. In 1944, they joined with others to form the Historic Landmark Society of Montana. The society listed historic sites that needed preservation and worked to save landmarks that were in danger of crumbling or being demolished.
Bovey donated much of his own money to the society for buying old buildings and property. He sometimes decided to simply buy some himself to make the preservation process quicker and easier.
In 1959 the people in charge of the Great Falls Fair decided the space used by "Old Town" was needed for other things. Fortunately, the Boveys had begun work on Nevada City years earlier. They added the "Old Town" buildings to the twelve buildings that survived from old Nevada City. Over the years, they saved many more buildings from destruction by moving them to the Nevada City streets.
Bovey continued to serve Montana as state legislator and expanded his ranch and farm. The Bovey's put time and money into preserving the buildings of Virginia City while displaying antiques they collected from around the state.
The couple also collected some challenges as time went on. To keep the town alive and running, they had to operate several businesses like restaurants, hotels, and the theater. They provided jobs and shelter for young people, usually college students, who worked for the town. The Bovey's even recreated a railroad. Engines and cars from Montana's railroad past surround the depot in Nevada City.
Charles Bovey died in 1978 and Sue Bovey died in 1988. They were Montana pioneers in the field of historic preservation.
Special acknowledgements to: John D. Ellingsen, John N. DeHass, Tony Dalich, and Ken Sievert
Tom Cook and Ellen Baumler of the Montana Historical Society.
Updated: August 21, 2020