Barber Shop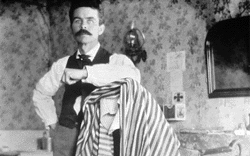 Not all the names of these tenants in the small buildings are known. A. LaCroix operated a shoe store in the one next to the present Fairweather Inn in 1873, and Thomas White had a barber shop in the east building at the same time. E. T. Yager, M.D., was also in the east building in the 1870's.
In 1903, John Chambers ran a barbershop in the same location. The two buildings were torn down sometime in the 1920's and the dormitory built for the Humphreys's Gold Corporation, which became part of the Fairweather Inn in 1935.
Special acknowledgements to: John D. Ellingsen, John N. DeHaas, Tony Dalich, and Ken Sievert, Tom Cook and Ellen Baumler of the Montana Historical Society.