James Welch
Native American Author
1940 - 2003
Updated: September 2, 2020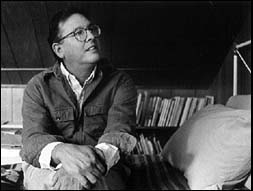 James Welch was born in Browning, Montana in 1940 to a Blackfeet father and a Gros-Ventre mother. Welch went to schools on the Blackfeet and Fort Belknap Reservations and began studying as a graduate student under influential poet Richard Hugo at The University of Montana in the 1960s. Welch said that during the first quarter his poems had no focus and no location. Finally, Hugo pulled Welch aside for some private counsel. What Hugo told him was that his poetry needed roots, so he should write what he knew about. Write about Indians and Indian culture. Write about home. Soon after Welch began telling the world about life on the Hi-Line and on the Reservation. Before, Welch thought publishers wouldn't be interested in either Indians or Montana and no one would want to read about Native Americans, the Reservation, and the landscape along the Hi-Line. Welch could not have been more wrong.
By his second year graduate school, Welch's poetry found a direction, and he was writing almost exclusively about Indian culture. It was something he had a real passion for and connection with, so his writing came much more naturally. Under Hugo's continued tutelage, Welch finally became a true poet. Hugo began reading Welch's poems to colleagues and encouraged his student to publish them. Welch's first book, a collection of poetry entitled Riding the Earthboy 40 (after a family—the Earthboys—and the forty acres of land they owned) was published in 1971. Welch said that he believes Indians tend toward poetry because it approximates the traditional rhythms of Native American music. In fact, for the first seven or eight years of Welch's career as a writer Welch only wrote poetry.
Although Welch began his career as a poet, he became famous for the fiction he wrote. His first novel, Winter in the Blood, earned him critical acclaim and also placed him alongside Momaday, author of House Made of Dawn, as a leader of the Native American Renaissance. Welch's other novels include The Death of Jim Loney, The Indian Lawyer, and Fools Crow, for which he won an American Book Award and the Los Angeles Times Book Prize. Fools Crow told the story of a band of Blackfeet Indians that escape the Marias River massacre of 1870 in which white settlers killed 173 Indians, mainly women and children. The Blackfeet that escaped were led by a woman with a bullet wound in her leg, a woman who was in reality Welch's grandmother. Though he never met his grandmother, the stories his father told him inspired Welch to write about her in this book.
Welch also wrote a nonfiction book, Killing Custer, which retold the story of the Battle of the Little Big Horn from an Indian perspective. Welch's final novel was The Heartsong of Charging Elk, after which Welch was awarded the title of a Knight of the Order of Arts and Letters from France. For his work as a poet and author, Welch also received the Native Writer's Circle's Lifetime Achievement award. As his close friend and fellow Montana author Ivan Doig said, Welch wrote about what it means to be an Indian in modern American society and he wrote about the people of the West without glorification, without cliché in an honest, clear voice from an intimate perspective. The world lost a great storyteller when Welch passed away in 2003, but the stories and poems he's written will live on in his stead.
Learn More:
Updated: September 2, 2020