Stan Lynde
1931 - 2013
Updated: September 2, 2020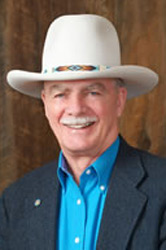 Stan Lynde was born in Billings, Montana on September 23, 1931. He was an American comic artist, painter and novelist. He was raised on his father's ranch near Lodge Grass, Montana on the Crow Indian Reservation.
He attended elementary, middle and high school at Lodge Grass, working on the ranch and traveling with the family wherever his father's sheep-raising business took them. During his early years, he lived with his parents in "every kind of dwelling you can imagine, from a sheep wagon, to a tent, dugout, line shack, cabin, and ranch house."

He attended the University of Montana at Missoula, Montana. During the Korean War he served with the Navy on the island of Guam and on board the submarine tender U.S.S. Sperry.
Lynde was discharged from the navy in 1955 . After an attempt at ranching and working for a newspaper in Colorado Springs, he moved to New York City in 1956. He was employed by the Wall Street Journal, and took art classes at night.
Lynde created the comic strip Rick O'Shay in 1958, and it was a huge critical and commercial success. It was set in the west and mixed humor with strong storytelling. Lynde left the strip in 1977 after a dispute with his distributer, the Chicago Tribune Syndicate.

Stan was co-founder and a director of The Great Montana Centennial Cattle Drive which in 1989 celebrated Montana's centennial with a 60 mile cattle drive from Roundup, Montana to Billings. The six-day drive featured 2,812 cattle, 3,337 horses, 208 wagons, and 105 of the state's top cowboys.
In 1979, Lynde returned with another comic strip, called Latigo, starring Cole 'Latigo' Cantrell. His father was a mountain man and his mother a Crow Indian. The daily strip was launched on June 25, 1979, joined by a Sunday strip, on July 1, 1979. It was not a great commercial success however, and ended in 1983. In 1984 and 1985, Lynde produced the weekly panel Grass Roots which was revived in 1998.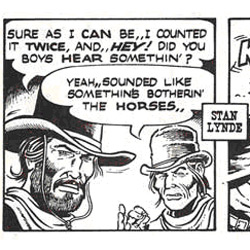 Lynde has written 5 novels: The Bodacious Kid in 1996, Careless Creek in 1998, Vigilante Moon in 2003, Saving Miss Julie in 2004 and Marshal of Medicine Lodge in 2005.
Stan and his wife Lynda founded Cottonwood Publishing in the 1990's to publish books reprinting his comics, and new material, primarily western novels. In 2002, Lynde returned with another exclusive comic, Bad Bob, about a hopeless Wild West criminal for Swedish comic magazine, Fantomen.
Stan called himself "a westerner by birth and inclination" and his work aptly reflected his life-long interest in the history, lore, and legend of the American west. He was a member of the Western Writers of America, and was a recipient of the Inkpot Award for Achievement in the Comic Arts, as well as the Montana Governor's Award for the Arts.
Lynde died on August 6, 2013.
Thank you to:
http://www.oldmontana.com/
http://sos.mt.gov/gallery/artwork/lynde/index.asp
Stan Lynde Biography
Wikipedia
Billings Gazette Archive 'Rick O'Shay' creator Stan Lynde dies Tuesday in Helena.
Updated: September 2, 2020