Chet Huntley
1911 - 1974
Updated: August 31, 2020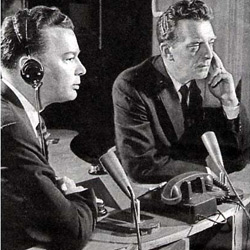 Huntley began his radio newscast career at Seattle's KIRO AM, later working on radio stations in Spokane and Portland Huntley's rise to broadcast news stardom began during his senior year at the University of Washington when he landed his first broadcasting job at Seattle's KPCB radio. His roles for the station ranged from writer and announcer to salesman, and his salary was $10 a month.
In 1937 he went to work for KFI in Los Angeles, moving to CBS Radio from 1939-51, then ABC Radio from 1951-55. In 1955, he joined the NBC Radio network. Along with Edward R. Murrow and Walter Cronkite, critics considered Huntley to have possessed one of the best broadcast voices ever heard. "Journalists were never intended to be the cheerleaders of a society, the conductors of applause, the sycophants. Tragically, that is their assigned role in authoritarian societies, but not here -- not yet."
In 1956, coverage of the national political conventions was a major point of pride for the fledgling broadcast news organizations. NBC decided to replace their current news anchor, but there was a disagreement on who the new anchorman should be. The two leading contenders were Huntley and David Brinkley. The eventual decision was to have both men share the assignment. Their on-air chemistry was apparent from the start, with Huntley's straightforward presentation countered by Brinkley's sharp wit.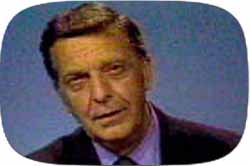 It was decided to have the two men co-anchor the show; Huntley from New York City, Brinkley from Washington, DC. The Huntley-Brinkley Report began in October 1956 and was soon a ratings success. The Huntley-Brinkley Report introduced a new broadcast style, cutting between Huntley in New York and David Brinkley in Washington, D.C.
As a cattle owner in Montana, Huntley's endorsements for the beef industry during the 1960s brought criticism from other professionals. His only apparent disagreement with his partner came during 1967, when Huntley crossed an American Federation of Television and Radio Artists' picket line claiming that news anchors did not belong in the same union as "actors, singers, and dancers."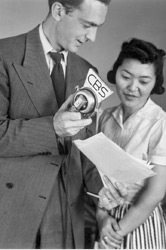 Huntley developed a reputation for airing his personal opinions on-air, and he was once accused of editorializing with his eyebrows. In the 1950s, he candidly criticized Senator Joseph McCarthy's outrageous allegations of Communist sympathy among government officials and members of Hollywood's film industry.
Huntley and Brinkley's catchphrase closing of "Good night, Chet" "Good night, David... and good night for NBC News" was developed by the show's producer. The sign-off became famous, although both men didn't like it. The 30-minute news show ran from October 29, 1956 to July 31, 1970.
Huntley earned an estimated $200,000 salary from NBC during The Huntley-Brinkley Report's time on the air. He also received several prestigious news industry awards including an Alfred I. duPont Award, a George Polk Memorial Award, two Overseas Press Club Awards, and 8 Emmy Awards with Brinkley. He was named the International Radio and Television Society's "Broadcaster of the Year" in 1970.
Huntley wrote a memoir of his Montana childhood, The Generous Years: Remembrances of a Frontier Boyhood, published in 1968.
Huntley concluded his final newscast, after 14 years, with this statement:
Chet Huntley: "At the risk of sounding presumptuous, I would say to all of you: be patient and have courage, for there will be better and happier news one day, if we work at it. And David, thanks for these years of happy association, and for being such an easy colleague to work with, and for all the kindnesses. "
David Brinkley: "I really don't want to say it, but the time has come, and so, for the last time, good luck...and good night, Chet."
Chet Huntley: "Good luck, David, and good night, for NBC News."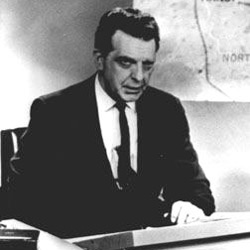 Huntley's last NBC News broadcast was aired on August 1, 1970. He returned to Montana, where he conceived and built Big Sky, a ski resort south of Bozeman, which opened in December 1973.
Huntley died of lung cancer on March 20, 1974 at his home in Big Sky at the age of 62.
"Maybe where there's clarity of air, there's clarity of thought."
Thank you to:
http://www.imdb.com/
Wikipedia
Updated: August 31, 2020