Brad Bird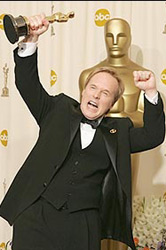 Brad Bird (born Phillip Bradley Bird) was born in Kalispell Montana, on September 11, 1957. He is the two-time Academy Award-winning director of Disney/Pixar's critical and box office hits The Incredibles and Ratatouille. He also wrote and directed the film The Iron Giant. Following the immense critical and commercial success of The Iron Giant, The Incredibles and Ratatouille, he is now arguably considered the finest director in the genre of computer animation. And he's from Montana! He has said that "the first step in achieving the impossible is believing that the impossible can be achieved…'You don't play it safe - you do something that scares you, that's at the edge of your capabilities, where you might fail. That's what gets you up in the morning.'"
On a tour of the Walt Disney Studios at 11, he announced that someday he would become part of its animation team, and soon began work on his own 15-minute animated short. Within two years, Bird had completed his animation, which impressed the company. By age 14, Bird was mentored by the animator Milt Kahl, one of Disney's legendary Nine Old Men. Bird graduated from Corvallis High School in Oregon in 1975 and took a three-year break. He won a scholarship from Disney to attend California Institute of the Arts, where he met another future animator, Pixar co-founder and director John Lasseter.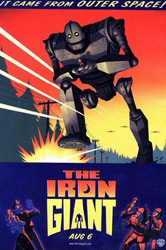 Bird has told this story "I've mentioned it to some other people but I had a very frustrating half hour with a guidance counselor in junior high where the guy was trying to get me to be a floor manager at Buymart or something like that. He said something like, 'What do you want to do with your life?' Then I'd say, 'I want to make films.' Then he'd go, 'Well what else do you want to do with your life?' Then I'd said, 'Well I'd probably try to find a way to make films.' 'If you couldn't do films, what would you do?' 'Well I'd have to find a way to do films.' 'If films didn't exist, what would you do?' 'I would have to invent them.' We went this way for half an hour and finally we just agreed to disagree."
Upon graduating from the California Institute of the Arts, Bird began working for Disney. He left the company shortly after working on The Fox and the Hound in 1981. Bird next worked on animated television series, such as a Family Dog episode of Steven Spielberg's Amazing Stories. In 1989 Bird he helped to develop The Simpsons into half-hour programs. In 1990, he directed the episode "Krusty Gets Busted" and co-directed the episode "Like Father, Like Clown". He worked on a couple other animated TV series, including King of the Hill.
In 2005, Bird won an Oscar in the Best Animated Feature category for The Incredibles, and his screenplay was nominated for the Best Original Screenplay. About The Incredibles, "I said, 'Give us the black sheep. I want artists who are frustrated. I want the ones who have another way of doing things that nobody's listening to...' We gave the black sheep a chance to prove their theories, and we changed the way a number of things are done here."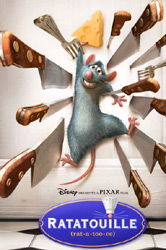 In January 2008, Ratatouille won the Best Animated Feature award at the Golden Globes; it was also nominated for 5 Academy Awards, including Best Original Screenplay and Best Animated Feature. In February 2008, Ratatouille won the Academy Award for Best Animated Feature Film. "Involved people make for better innovation… Involved people can be quiet, loud, or anything in-between—what they have in common is a restless, probing nature: 'I want to get to the problem. There's something I want to do.'"
Bird has spoken avidly about animation as an art form; he believes animation can be used to tell any kind of story, drama or comedy, for children or an adult audience. When asked if Brad brought rats to the office to inspire his creative team during Ratatouille, Brad replied "We had rats, yeah. They were nice fluffy lab rats though. They weren't germ ridden sewer rats. They're actually quite sweet and when they crawled around on us, we saw how they kind of led with their nose which was perfect for our rat. They experience things first with their nose which is kind of perfect. Yeah, they're kind of sweet."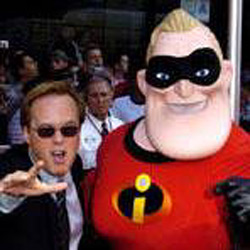 He has directed the Family Dog (1987), The Iron Giant (1999), The Incredibles (2004), Jack-Jack Attack (2005) and Ratatouille (2007) . Brad has been the screenwriter for Family Dog, Batteries not included (1987), The Iron Giant, The Incredibles and Ratatouille. Bird has acted in The Incredibles as Edna Mode and in Ratatouille as Ambrister Minion.
He said in an interview about The Incredibles that "I tried to base the powers on family archetypes. The father is always expected to be strong, so I had him have strength. Moms are always pulled in a million different directions, so I had her be elastic. Teenagers are insecure and defensive, so I had her be invisible and have protective shields. Ten-year-old boys are hyperactive energy balls, so I had him be speed. And babies are unknown—they may have great powers, they may have none."
He has said that "the minute all this activity slows down enough for me to think, I'll get to work on something new."

Thank you to:
Wikipedia
http://gigaom.com/2008/04/17/pixars-brad-bird-on-fostering-innovation/
http://www.michaelbarrier.com
http://dvd.ign.com
http://www.moviesonline.ca/movienews_12342.html