Martha Raye
1916 - 1994
Updated: September 2, 2020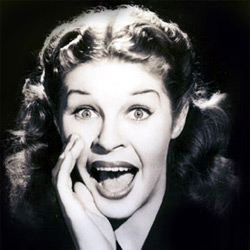 Martha Raye was born in Butte, Montana on August 27, 1916. She was an Academy Award-winning American comic actress and standards singer who performed in movies, and later on television.
Raye's life as a singer and comedy performer began very early in her childhood. She was born at St James Hospital, as Margy Reed, where her Irish immigrant parents were performing at a local vaudeville theatre. Two days after Martha was born, her mother was back on stage, and Martha first appeared in their act when she was 3 years old, performing with her brother, Bud. "I must have been hypnotized by the spotlight. I never realized I was being culturally deprived, that I was having a lousy upbringing. We were too busy making a living to worry about stuff like that."
She made her first film appearance in 1934 in a band short titled A Nite in the Nite Club. In 1936, she was signed for comic roles by Paramount Pictures, and made her first picture for Paramount. Her first feature film was Rhythm on the Range with Bing Crosby.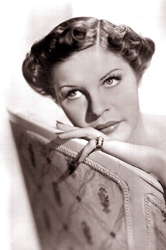 Martha Raye was known for the size of her mouth, which appeared large in proportion to the rest of her face, thus earning her the nickname 'The Big Mouth.' Her mouth would come to relegate her motion picture work to largely supporting comic parts, and was often made up in such a way that it appeared even larger than it already was. "Few people actually know me or take me seriously. I thought success in show business was the answer to everything. It isn't. I don't know what is."
Martha Raye had a lifelong fear of flying, but because of her profession was required to make numerous flights, which she could muster only after drinking herself into a near alcoholic stupor. Her drinking and conduct during these periods ended up with a number of airlines refusing her service, particularly on her many trips into the Miami, Florida area, which was her favorite vacation spot.
During World War II, the Korean War, and the Vietnam War, she travelled extensively to entertain the American troops. Raye became an honorary Green Beret. Visited U.S. Army Special Forces in Vietnam without fanfare, she was affectionately known by Green Berets as "Colonel Maggie."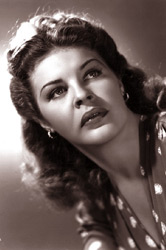 Raye was an early television star, she had her own program, The Martha Raye Show from 1954 to 1956 in which she was the lead and her awkward boyfriend was portrayed by retired boxer Rocky Graziano. Later, Raye served as the television spokesperson for Polident denture cleanser during the 1970's and 1980's. Raye's catch-phrase used in the vast majority of these ads was, "So take it from a big mouth, new Polident green gets tough stains clean."
She was married seven times, with most of her marriages lasting less than two years and her first marriage lasting only three months. She was married to Nick Condos from March 9, 1944 to June 17, 1953 which resulted in the birth of her only child, Melodye Raye Condos on July 26, 1944; and to Mark Harris from September 25, 1991 until her death in 1994.
A battle ensued between Martha's daughter Melodye and Mark Harris over Martha's possessions, her will, and eventually her burial. Raye left the bulk of her estate to Harris, with a portion going to PETA, as Raye was a great animal lover.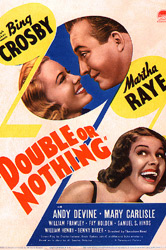 In November of 1993, after a long and drawn-out series of illnesses, Martha was presented with the Presidential Medal of Freedom by President Clinton. The ceremony took place in their Bel Air home. Although several people close to Martha had worked since 1987 to see that this well-deserved recognition was bestowed upon Martha before her passing, Martha accepted her medal from a wheelchair. The citation reads: "A talented performer whose career spans the better part of a century, Martha Raye has delighted audiences and uplifted spirits around the globe. She brought her tremendous comedic and musical skills to her work in film, stage, and television, helping to shape American entertainment. the great courage, kindness, and patriotism she showed in her many tours…The American people honor Martha Raye, a woman who has tirelessly used her gifts to benefit the lives of her fellow Americans."
Raye was in the following feature films, beginning with Rhythm on the Range in 1936, The Big Broadcast of 1937, Hideaway Girl, Mountain Music, Artists & Models, Double or Nothing, The Big Broadcast of 1938, College Swing, Tropic Holiday, Give Me a Sailor, $1000 a Touchdown, The Boys from Syracuse, Four Jills in a Jeep, Pin Up Girl, the documentary No Substitute for Victory, Pufnstuf and The Concorde: Airport '79 in 1979. Raye also starred in A Nite in a Nite Club in 1934 and Cinema Circus in 1937.
As for TV shows, Raye acted in Four Star Revue (host from 1951 to 1953) The Martha Raye Show from 1954 to 1956, The Judy Garland Show, The Bugaloos, Skinflint: A Country Christmas Carol, The Gossip Columnist, Pippin: His Life and Times , Alice (a cast member from 1982 to 1984) and Alice in Wonderland in 1985.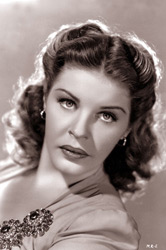 Raye's final years were spent dealing with ongoing health problems. She suffered from Alzheimer's and had lost both legs in 1993 due to circulatory problems. She died of pneumonia at 78 on October 19, 1994 in Los Angeles.
In appreciation of her work with the USO during World War II and subsequent wars she was buried with full military honors in Fort Bragg, North Carolina.
Raye has two stars on the Hollywood Walk of Fame, for motion pictures, located at 6251 Hollywood Blvd., and for television, located at 6547 Hollywood Blvd.She won the Jean Hersholt Humanitarian Award in 1968, the Screen Actors Guild Life Achievement Award in 1973 and received the Women's International Center (WIC) Living Legacy Award in 1988.
"Only cowards give up the search for happiness because they're afraid of getting hurt."
Thank you to:
http://www.imdb.com/
The New York Times
Wikipedia
Updated: September 2, 2020