Gary Cooper
Updated: September 2, 2020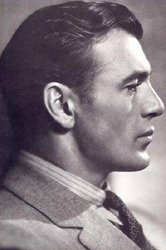 Frank James "Gary" Cooper was born in Helena, Montana on May 7, 1901. During his lifetime, Cooper received five Academy Award nominations for Best Actor, winning twice, for Sergeant York and High Noon. He also received an Honorary Award in 1961 from the Academy.
He was one of two sons of English parents. His mother wanted their two sons to receive a better education than was available in Montana and arranged for the boys to attend Dunstable Grammar School in Bedfordshire, England from 1910 to 1913. Upon the outbreak of World War I, Mrs. Cooper brought her sons home and enrolled Cooper in a Bozeman high school.
16 year-old Frank helped out on the family ranch after brother Arthur enlisted in the Army. "Getting up at 5 a.m. and shoveling manure at forty below ain't romantic" Cooper said, "but Dad was a true Westerner - and I take after him."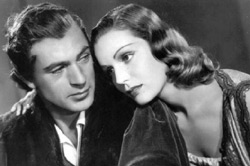 Cooper started college at Montana Wesleyan College in Helena, then transferred to Iowa's Grinnell College, where he tried out, unsuccessfully, for the college's drama club. He attended until spring of 1924 but didn't graduate. He then returned to Helena to manage the ranch. In 1924, Cooper's father left the Montana Supreme Court bench and moved with his wife to Los Angeles. Their son, unable to make a living as an editorial cartoonist in Helena joined them, moving there that same year, saying that he "would rather starve where it was warm, than to starve and freeze too."
Cooper began looking for any job he could get in LA. Failing as a salesman of both electric signs and theatre curtains, and as a promoter for a photographer, Frank happened to meet up with two friends from Montana. They told him about their own jobs, stunt riding as cowboy extras at a movie studio. It was good money for 1925, $10 a day plus a box lunch; Frank did not hesitate to join his friends on their next rounds to the casting directors. During 1925 and 1926, Frank never lacked for work.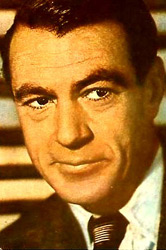 Casting director Nan Collins saw potential in the young man and agreed to work on his behalf. There were already two other 'Frank Cooper's in films, so Nan Collins suggested her new client change his first name. "Nan came from Gary, Indiana and suggested I adopt that name," Cooper said. "Good thing she didn't come from Poughkeepsie."

Cooper's good looks and presence were immediately noticed by audiences and critics alike. Variety Weekly predicted "Cooper is a youth who will be heard of on the screen." Paramount Pictures agreed, and Cooper was offered a contract at $150 a week which he accepted.
"Coop", as he was called by his friends, appeared in over 100 films. He became a huge star with his first sound picture The Virginian, in 1929. The lead in the screen adaptation of A Farewell to Arms in 1932 and the title role in 1936's Mr. Deeds Goes to Town furthered his box office appeal. Cooper was a producer's first choice for the role of Rhett Butler in the 1939 film Gone with the Wind. When Cooper turned down the role, he was very much against it. He is quoted as saying, "Gone with the Wind is going to be the biggest flop in Hollywood history. I'm glad it'll be Clark Gable who's falling flat on his nose, not me."
Paramount put Cooper into one of their biggest productions Wings, a WWI story. Coop had one scene in the film, but he had such an impact on audiences that after the film's release the studio was swamped with letters asking the name of the pilot who ate a chocolate bar and then gaily went off to his death in battle. Wings was the first film to win the Academy Award as Best Picture. The new decade of the 1930s would bring Cooper success he never imagined. By 1931, Cooper had made 28 movies in five years.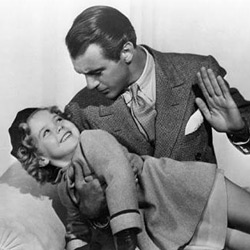 Cooper was 'resting' in Europe when Paramount Studios decided they needed to rein in their wandering star, and gave him some offers. They also told him they had a new star who had already been offered good parts that might have gone to Cooper; a young Englishman named Archibald Leach, who had changed his name to Cary Grant. "The guy's got my initials in reverse!" Cooper said as he decided it was time to return to Hollywood.
Back in Hollywood, Cooper met Rocky. She was the daughter of a New York millionaire, 20 and elegant. In November of 1933 he asked her to marry him. The answer was yes. "Rocky is the ideal girl for me," Cooper said. On December 15, 1933, Cooper wed Veronica (Rocky) Balfe. They spent their honeymoon at the bride's parents' winter home in Arizona. The couple was seldom in Hollywood if Gary was not making a movie, instead seen on the society scene in New York or camping trips in Montana. They had one daughter, Maria.
In 1942, he won his first Academy Award for Best Actor for his performance as the title character in Sergeant York. Alvin York refused to authorize a movie about his life unless Gary Cooper portrayed him. In 1953, Cooper won his second Best Actor Academy Award for his performance as Marshal Will Kane in High Noon. Sick with an ulcer, he wasn't present to receive his Academy Award in February 1953 so he asked John Wayne to accept it on his behalf. Cooper continued to appear in films almost to the end of his life. His final motion picture was a British film, The Naked Edge in 1961.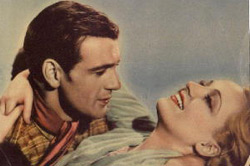 Cooper was too ill to attend the Academy Awards ceremony in April 1961, so his friend James Stewart accepted the honorary Oscar on his behalf. Stewart's emotional speech seemed as if something was seriously wrong, and the next day newspapers all ran the headline, "Gary Cooper has cancer". One month later Cooper was dead on May 13, 1961, six days after his 60th birthday. A German newspaper said "He was the symbol of trust, confidence and protection. He is dead now. What a miracle that he existed."
Decades later, the American Film Institute named Cooper among the AFI's '100 Years...100 Stars', ranking 11th among males from the Classical Hollywood cinema period.
In 1966, he was inducted into the Western Performers Hall of Fame at the National Cowboy & Western Heritage Museum in Oklahoma City, Oklahoma. He was even mentioned in the lyrics to Irving Berlin's song 'Puttin' on the Ritz': "Trying hard to look like Gary Cooper".
For his contribution to the film industry, Gary Cooper has a star on the Hollywood Walk of Fame. Cooper's life philosophy was "There ain't never a horse that couldn't be rode...there ain't never a rider that couldn't be throwed."
Thank you to:
http://themave.com/Cooper/
Wikipedia
Updated: September 2, 2020