Dana Carvey
Updated: August 31, 2020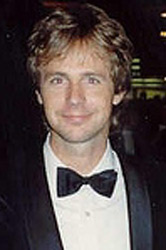 Dana Carvey was born in Missoula, Montana on June 2, 1955. He is an American Emmy-award winning actor and comedian known for his work on Saturday Night Live and the spin-off movie Wayne's World.
The son of a schoolteacher and a high school business teacher, the family moved to San Carlos, California when Carvey was three years old. Carvey received his Bachelor's degree in communications from San Francisco State University. In 1979, while performing at the Great American Music Hall in San Francisco, he met Paula Zwaggerman, who would later become his wife. Soon after returning to the Bay Area in 1980, Dana and Paula were engaged. They have 2 boys.
Carvey's first movie role was a small part in the 1981 horror film Halloween II. He then costarred on One of the Boys in 1982, a short-lived television sitcom that also starred Mickey Rooney, Nathan Lane, and Meg Ryan. In 1984, Carvey had a small role in This Is Spinal Tap, in which he played a mime. He also starred in the short-lived movie-based action show Blue Thunder.
In 1986, Carvey became a household name when he joined the cast of NBC's Saturday Night Live. He helped make SNL 'must-see' TV once again. His breakout character was The Church Lady, the uptight, pious, and smug host of "Church Chat." The catchphrase of the sketch was "Well, isn't that special?" Carvey said he based the character on women he knew from his church growing up who would keep track of his and others' attendance.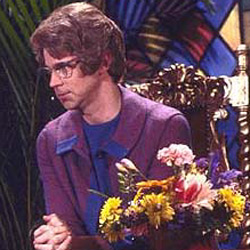 Carvey's other original characters included Garth Algar (from Wayne's World), Hans (from Hans and Franz), and The Grumpy Old Man (from Weekend Update). Garth is actually an affectionate caricature of Dana's brother, an accomplished electrical engineer who invented the Video Toaster, and has been said by Carvey to have fixed the family clothes dryer using only a butter knife. Proving his talent as both a writer and actor on SNL, Carvey as the Grumpy Old Man said "I'm old and I'm not happy. Everything today is improved and I don't like it. I hate it! In my day we didn't have hair dryers. If you wanted to blow dry your hair you stood outside during a hurricane. Your hair was dry but you had a sharp piece of wood driven clear through your skull and that's the way it was and you liked it! You loved it."
In 1992, Carvey joined with Mike Myers to bring their popular 'Wayne's World' sketch to the silver screen with Wayne's World, the movie. A sequel was filmed and released in 1993, titled Wayne's World 2. Carvey left SNL in 1993. Carvey won an Emmy in 1993 for 'Outstanding Individual Performance in a Variety or Music Program.' He has received 6 Emmy nominations.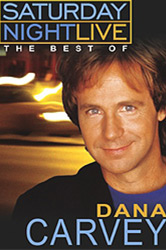 On SNL, Carvey has done a lot of celebrity impersonations including Woody Allen, Tom Brokaw, George W. Bush and George H. W. Bush, Bill Clinton, Johnny Carson, Prince Charles, Bob Dylan, Al Gore, Paul McCartney, Dennis Miller, Ross Perot, Regis Philbin, Keith Richards, Mickey Rooney, John Travolta, Robin Williams, Frank Zappa and Al Pacino.
He reprised many of his SNL characters in 1996 for The Dana Carvey Show, a critically acclaimed but short-lived variety show. The show was most notable for launching Robert Smigel's cartoon "The Ambiguously Gay Duo." Carvey starred in the film Clean Slate in 1994. The following year, Carvey filmed his first HBO stand-up special, Critic's Choice.
In 1997, he underwent open-heart surgery for a blocked artery. Unfortunately, the doctors operated on the wrong artery. Carvey later sued for medical malpractice and was awarded $7.5 million. Carvey stated in an interview with Larry King that he donated all the money to charity. A very private person, Carvey withdrew from the limelight to focus on his family after SNL. On June 14, 2008, Carvey filmed a second HBO stand-up special, the first in 13 years, entitled Squatting Monkeys Tell No Lies.
Carvey most likely has the distinction of being the only comedian ever to be imitated by a former President of the United States at the funeral of another former President of the United States. At the funeral of Gerald Ford, George H. W. Bush said in his eulogy about how Ford took it in stride when SNL's Chevy Chase made Ford the object of his own parody. Bush cited this as a valuable lesson in learning to laugh at one's self as a part of public life. "I'd tell you more about that," Bush continued, "but as Dana Carvey would say, [imitating Carvey imitating him] 'Not gonna do it! Wouldn't be prudent!'".
He has appeared in the movies Halloween II in 1981, This is Spinal Tap, Racing with the Moon, Blue Thunder (a TV series), Tough Guys, Moving, Opportunity Knocks, Wayne's World and Wayne's World 2, The Road to Wellville, Trapped in Paradise, The Shot, Little Nicky, The Master of Disguise, and Tusker in 2002.

He is number 90 on Comedy Central's list of the 100 Greatest Stand-Ups of All Time. As the Grumpy Old Man on SNL, Carvey once said "In my day, we didn't have video games! We just sat around and watched a potata' bake!"
Thank you to:
Dana Carvey Fan Site
Wikipedia


Updated: August 31, 2020