White of Winter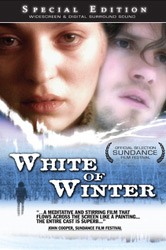 White of Winter is A First Amendment Films presentation in association with Alerity Films, directed and written by Robert Saitzyk. Growing up in Montana, Rachel and Tommy were best friends and soul mates. But in high school they experience a violent event that broke their ties. Years later, Rachel sees Tommy's face as a bit actor on a rented video, which reawakens all that she tried to keep buried deep inside for so many years and so she sets out to find Tommy.
A Variety review by Dennis Harvey says "Having glimpsed her former high school sweetheart Tommy in a video-rental, loner Rachel impulsively drives from Texas to L.A., where she hopes he'll 'pop up' on Beverly Hills streets. She does eventually find him, albeit in much seedier circumstances than imagined; he's a surly junkie whose thesping career has gone nowhere. Convinced she gave birth to their child 12 years ago, she persuades him to return to their Montana hometown, there hopefully to locate the adopted child's whereabouts."
The cast stars Zoë Poledouris, Bret Roberts, Tamara Zook, Joseph Chase, Nikki Grace, David Gerhke, Raven Micale and Ned Benson.
Did you know?
White of Winter was filmed in Bozeman and Livingston, Montana and Los Angeles, California.
White of Winter features a score composed and performed by Zoë Poledouris, who also plays Rachel.
Zoë Poledouris has acted in The Greener Grass, Nobody Needs to Know, Down and Out with the Dolls and Starship Troopers in 1997. She been a composer for The Sailor's Girl, The Greener Grass, Teenage Caveman, Down and Out with the Dolls, and Cecil B. DeMented.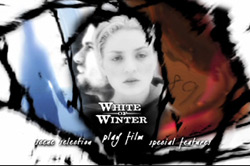 Tamara Zook has appeared in Portal, Criminal Minds, Gilmore Girls, ER, Between Christmas and New Year's, Port Charles, and Ink.
It was an official Sundance selection in 2003!