What Dreams May Come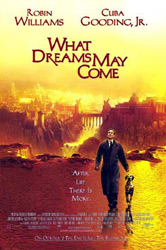 What Dreams May Come is a 1998 dramatic movie, starring Robin Williams and Cuba Gooding Jr. The movie is based on the 1978 novel by Richard Matheson, and was directed by Vincent Ward.
Dr. Chris Nielson meets his true soul mate Annie, marries her and has two children. The children die in a car accident, and Chris dies 4 years after that. Chris Nielsen goes to an otherworldly paradise, created out of his wife's paintings. He is guided by friendly guardian angel named Albert through the afterlife, and he is reunited with his dog and children. Albert tries to talk Chris out of trying to reach his wife, who is terrified of a life without him; he desperately searches for her spirit, journeying through heaven and hell along the way. What Dreams May Come is known for the extraordinary world Ward created, where Robin Williams walks into a striking landscape of living paintings.
The cast included Robin Williams, Annabella Sciorra, Cuba Gooding Jr., Max von Sydow, Jessica Brooks Grant, Marie Nielsen, Rosalind Chao, and Lucinda Jenney.
Did you know?
What Dreams May Come was filmed in Venezuela, the Blackfeet Indian Reservation in Montana, Glacier National Park, Niagara Falls, Treasure Island, San Francisco and San Jose California, and San Rafael and Oakland, California for the church scenes.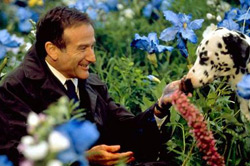 The title is from William Shakespeare's Hamlet (Act 3, Scene 1): "To sleep: perchance to dream: ay, there's the rub; For in that sleep of death what dreams may come When we have shuffled off this mortal coil must give us pause..."
The budget was $85 million! Wow!
When Chris goes to the city in heaven where people are flying around, watch for characters from Peter Pan (Wendy, Michael, John) and Mary Poppins among the people flying.
The movie won an Academy Award in 1999 for its visual effects. It was also nominated for the Academy Award for Best Art Direction.
It opened on October 28, 1998 in the United States on 2,526 screens. The opening weekend total was $15,833,592, with an ultimate $55,382,927 intake.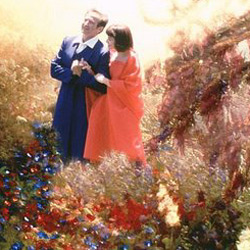 At the Blockbuster Entertainment Awards of 1999, Cuba Gooding Jr. won the Favorite Supporting Actor in a Drama/Romance.
You may remember Robin Williams as the Genie in Aladdin, Flubber, Popeye, Happy Feet, Good Will Hunting, Night at the Museum and License to Wed.
Cuba Gooding Jr. has appeared in Snow Dogs, Radio, and Daddy Day Camp.
What Dreams May Come premiered October 2, 1998 and was distributed by PolyGram.
Thank you to:
http://www.imdb.com
Wikipedia