True Colors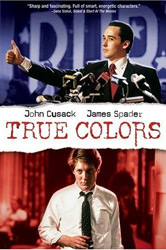 True Colors is a movie written by Kevin Wade and directed by Herbert Ross. Peter and his best friend Tim met years earlier after getting into a fistfight in the parking lot at law school. After discovering that they are to be roommates, the men become friends. Tim, who comes from a rich family, wants to do what is right. He plans a career with the Department of Justice, which his girlfriend Diana disapproves of. Peter is embarrassed by his lower-class roots and is willing to use anyone to get ahead. He plans a career in politics, and manipulates his way into a job on a congressman's campaign staff.
The friendship between the two men is really tested when Peter confesses to Tim during a ski vacation that he and Diana have been having an affair behind Tim's back and he plans to ask Diana to marry him. Tim, angry at the betrayal, speeds off down a ski trail and Peter follows him. Tim leads Peter to the edge of a steep cliff. Peter hurdles down to the bottom breaking his leg. Tim forgives Peter and agrees to be the best man at Peter and Diana's wedding.
Later, Tim has risen through the ranks of the Department of Justice and launches an investigation into political corruption. Tim has false information as he creates a public embarrassment for the DOJ and compromises the investigation; Tim is suspended for his actions.
The movie stars John Cusack, James Spader, Imogen Stubbs, Mandy Patinkin, Richard Widmark, Dina Merrill, Don McManus, Wendee Pratt, Rende Rae Norman and Frank Hoyt Taylor.
Did you know?
True Colors was filmed in Annapolis, Maryland, Big Sky Ski Resort and Bozeman Montana, Charlottesville and Richmond, Virginia, the University of Virginia and Washington, D.C.
The New York Times said "…the movie reveals a distinct, very 80's bias on behalf of the well-mannered, well-born Tim at the expense of the ambitious, self-made Peter. The sharp performances by Mr. Cusack and Mr. Spader brighten things a bit, as do brief appearances by Richard Widmark, Philip Bosco and Paul Guilfoyle…"
John Cusack has been in Must Love Dogs, Serendipity, Anastasia, Say Anything and Sixteen Candles.
Mandy Patinkin has been in 29 episodes of Dead Like Me, Boston Public, The Adventures of Elmo in Grouchland, Hercules and The Princess Bride as Inigo Montoya.
Michael Stanton Kennedy has acted in Evan Almighty, One Tree Hill, Matlock and Cry-Baby.
Thank you to:
Wikipedia
http://www.imdb.com