Taking Chance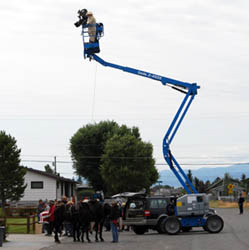 Based on the journals of Lt. Col. Michael R. Strobl, USMC (ret), Taking Chance is the story of a Marine who volunteers to escort the remains of 19-year old Chance Phelps, killed in Iraq, to his family for burial in a small Wyoming town. The military funeral scenes for this HBO drama were filmed at Boot Hill Cemetery in Virginia City and on Ennisís Main Street. Some scenes were filmed in Bozeman, with the dramatic-looking Bridger Mountains as a picturesque backdrop.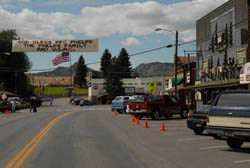 Trivia: The Defense Department had banned virtually all media coverage of deceased vets returning home since the 1991 Gulf War until April 2009. But the military offered advice and assistance for the film, providing Taking Chance's film crew with a rarely viewed but painstakingly accurate account of the care and protocol bestowed upon the nation's fallen warriors.
Awards: Taking Chance was nominated for 24 awards, including 9 Emmy Awards. The film had 6 wins, which included a Golden Globe for Best Performance by an Actor in a Mini-Series or Picture Made for Television for Kevin Bacon, a Directors Guild of America award for Outstanding Directorial Achievement in Movies for Television/Mini-Series, and an Emmy Award for Outstanding Single Camera Picture Editing for a Miniseries or Movie.
2009 TV movie. Kevin Bacon, Tom Wopat. Director: Ross Katz