Northfork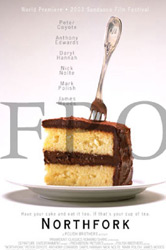 Northfork is a movie directed by Michael Polish, written and produced by Michael and Mark Polish. It premiered at the Sundance Film Festival on January 21, 2003 and later received a limited release in the US on July 11, 2003.
The movie takes place in the town of Northfork, Montana in 1955. A new dam is being built which will flood the valley of Northfork, and the town is in the middle of an evacuation. The narratives focus on several individuals who have yet to evacuate. Walter O'Brian and his son are on the evacuation team, helping to evacuate the last few inhabitants of Northfork. Father Harlan has stayed behind to care for Irwin, a dying orphan too weak to leave town. While the O'Brians and their coworkers encounter an array of unusual characters, Irwin discovers that he is the "unknown angel" and finds himself a family in his dreams.
The film stars James Woods, Nick Nolte, Daryl Hannah, and Peter Coyote.
Did you know?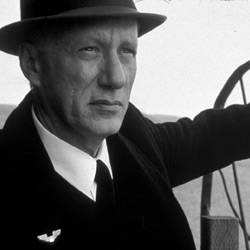 Northfork was filmed in Augusta, Fort Peck Dam, Fort Peck, Glasgow, and Great Falls, Montana.
Northfork won the Athens International Film Festival City of Athens Award in 2003, won the Golden Fleece at the Golden Trailer Awards in 2004, was nominated for an Independent Spirit Award in 2004, and won the 2003 German Independence Award at the Oldenburg Film Festival.
The budget was only $1,900,000!
In a July 2003 salon.com article, Amy Reiter asked James Woods 'What attracted you to Northfork?' "I thought it was a very bold subject, this whole idea of the transition from life to death or how to make life more meaningful while you're living it in the face of death. Secondly, I thought it would be exquisitely presented..."
In a July article by Larry Carroll "The Polishes were upfront from the first day about how small the checks would be for those involved. Says Mark: "You have to just be honest with the cast and crew about money. The budget was 1.8 million, and we had to borrow about $800,000 to get it made. We paid scale - $1400 a week, and they'll get a share of any profits."
Nick Nolte has been in Hulk, Over the Hedge, and The Spiderwick Chronicles.
Daryl Hannah has appeared in The Little Rascals, Addams Family Reunion and A Walk to Remember.
Thank you to:
http://www.imdb.com/
Wikipedia
http://www.filmstew.com/
James Woods salon.com interview
Northfork review